Description
Annexin V-PE Apoptosis Detection Kit
The Annexin V-PE Apoptosis Detection Kit is based on the observation that soon after initiating apoptosis, most cell types translocate the membrane phospholipid phosphatidylserine (PS) from the inner face of the plasma membrane to the cell surface. Once on the cell surface, PS can be easily detected by staining with a fluorescent conjugate of Annexin V, a protein that has a strong natural affinity for PS. The one-step staining procedure takes only 10 minutes. In addition, the assay can be directly performed on live cells, without the need for fixation.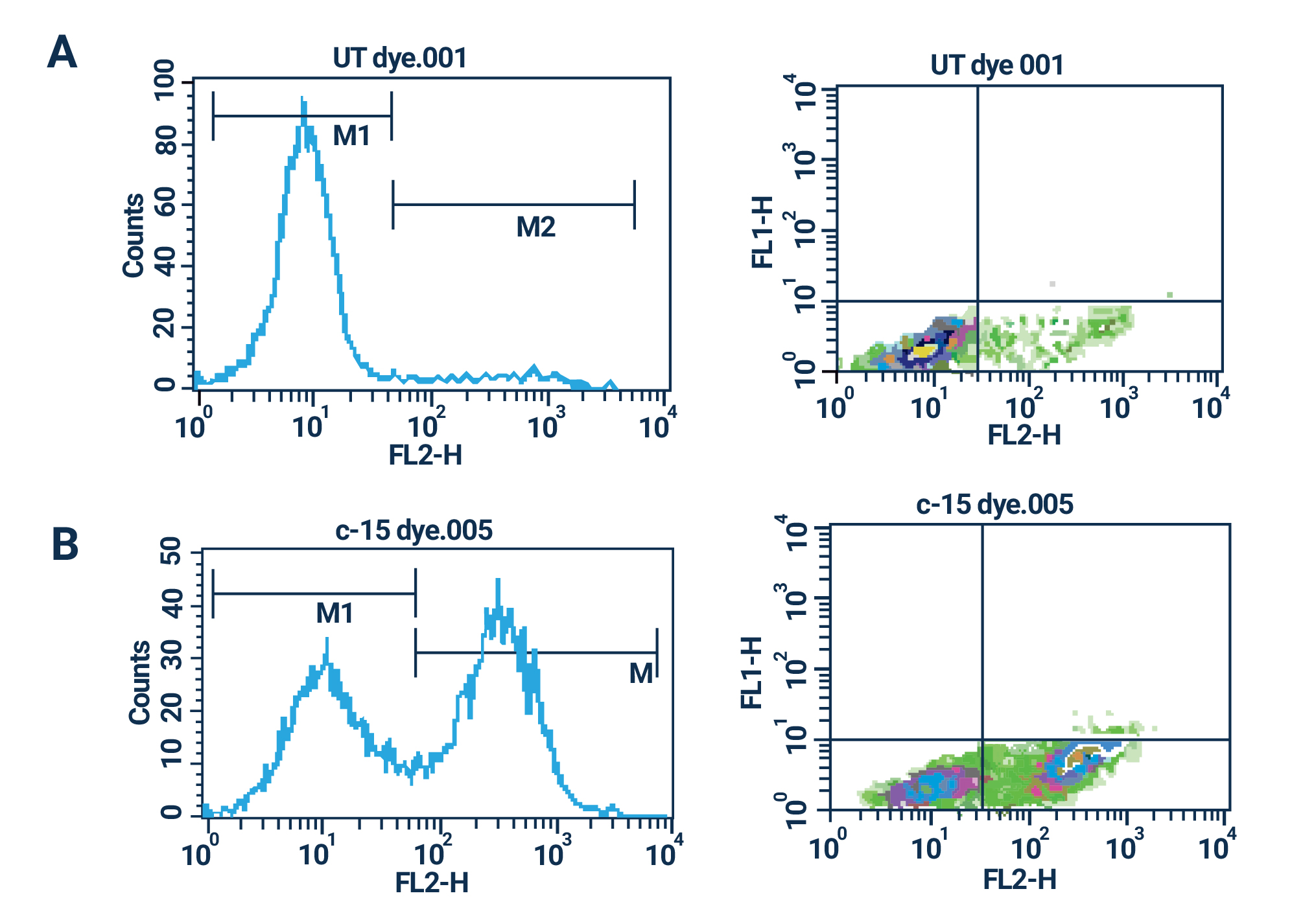 Figure: Analysis of Apoptosis with the Annexin V-PE Apoptosis Detection Kit Apoptosis was induced in Jurkat cells by 4-6 hrs incubation with 2 µM Camptothecin. The resultant apoptosis was quantified in un-induced cells (A) and the induced cells (B) using this detection kit.
Key Information
Description

Flow cytometry (Ex = 488 nm; Em = 578 nm) and fluorescence microscopy

25 Assays
100 Assays
400 Assays

Detect early/middle stages of apoptosis; differentiate apoptosis from necrosis.

Simple one-step procedure; takes only 10 minutes
Fast and convenient, no need of fixation of cells
The Annexin V-PE Apoptosis Detection Kit contains the bright orange-red PE fluorescent probe that can be easily detected.

Annexin V-PE
1X Binding Buffer

For Research Use Only! Not For Use in Humans.
View All
Close
Additional Information
| | |
| --- | --- |
| Product type: | Cellular Assay |
View All
Close