Frequently bought together:
Description
Antibody Cy3 Labeling Kit
Assay Genie's Antibody-Cy3 Labeling Kit provides an easy way to label antibodies with Cy3 in a user-friendly spin column format. Cy3 is a better alternative to Alexa Fluor 555, Rhodamine Red-X, and TAMRA due to its high extinction coefficient and far red emission. Each pair of spin columns provided in the kit can be used to purify up to 1 mg of the labeled target antibody. The kit provides all of the reagents necessary to perform five labeling reactions using up to 1 mg of antibody per reaction. Cy3-labeled antibody has excitation and emission wavelengths at 550 nm and 570 nm respectively, and can be directly used for multiple downstream applications including ELISA, western blot, Immunohistochemistry, Immunofluorescence, FACS, etc.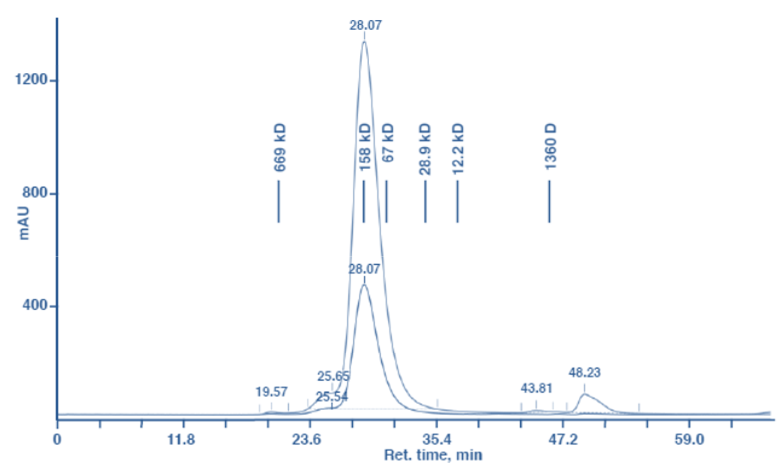 Figure: SEC chromatogram of an Anti-BSA IgG labeled with Cy3 using a Superdex 200 HR 10/30 column at 0.5 ml/min. in 50 mM Tris and 0.25 M NaCl pH 7.5. The absorbance was monitored at 280 nm (Blue line) and 550 nm (Red line). The spin column format ensured that the purification of antibody was fast and there was no unreacted Cy3 left after the antibody was purified according to the kit protocol.
Key Information
Description

Absorbance at 280 nm and 550 nm

Labeled antibodies can be used for ELISA, western blot, Immunohistochemistry, Immunofluorescence, and FACS analysis.

All necessary reagents included.
Fast and efficient labeling of antibodies with Cy3

Cy3
Spin Column
Elution Buffer

For Research Use Only! Not For Use in Humans.