Frequently bought together:
Description
Antibody/Protein Aggregation Assay Kit
Antibody and protein aggregation are important issues in the field of Biotherapeutics. A wide range of conditions and different stages of processing of biopharmaceuticals, such as, formulation, purification, storage, shipping and handling, heat, freeze thaw cycles, mechanical stress, chemical treatment etc. might cause aggregation of proteins, enzymes and antibody targets. The possibility of protein aggregates in eliciting immunogenicity is a major concern for biotherapeutics, which might compromise the safety and efficacy of the biologically derived drug products. Recombinant protein production and storage would highly benefit from a high throughput screening method that can screen a variety of formulation and storage conditions of a particular target protein/antibody. Currently, different biophysical techniques such as Dynamic Light Scattering (DLS), Size-exclusion Chromatography with Multi-angle Light Scattering (SEC-MALS) can detect the presence of small amount of aggregates in a protein/antibody preparation, but they are not amenable for high-throughput screening format. Assay Genie's Antibody/Protein Aggregation assay kit is a platform to estimate the extent of aggregation within a protein/antibody sample. This is a fast, high-throughput, plate-based fluorometric assay format and can detect as low as 0.5% antibody aggregate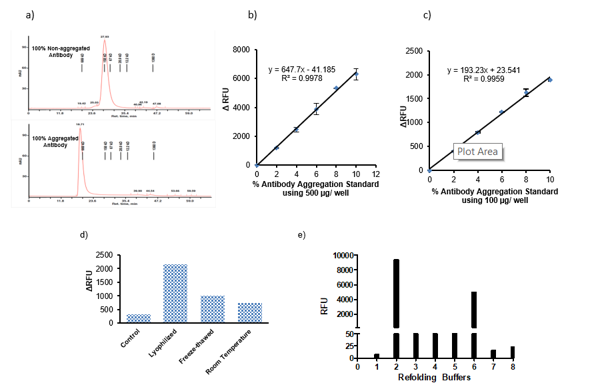 Figure: (a) Size Exclusion Chromatography of 100% non-aggregated antibody and 100% aggregated antibody samples are premixed in appropriate ratio and provided as 0-10% Antibody Aggregate Standards (b) % Aggregation Standard Plot using Assay Genie's Antibody Aggregate Standards (with 5 mg/ml, final amount: 500 µg/well (c) % Aggregation Standard Plot obtained using Assay Genie's Antibody Aggregate Standards (1 mg/ml, final amount: 100 µg/well) (d) Protein Aggregation detected after a proprietary protein sample (10 mg/ml) was subjected to different formulation and storage conditions, (e) Protein Aggregation detected after refolding of denatured lysozyme in using different buffer formulations. The assays were performed as indicated in the protocol.
Key Information
Description

Detection method- Fluorescence (Ex/Em = 440/500 nm)

Measurement of protein aggregation for protein formulation.
Simple one-step procedure; takes less than one hour High-throughput compatible
The entire assay can be performed directly in a 96-well plate and does not require washing/long incubation times or solubilization steps

Aggregation Assay Buffer
Antibody aggregate standard (0%)
Antibody aggregate standard (10%)
Aggregation Assay Probe

For Research Use Only! Not For Use in Humans.