Description
Arginase Activity Colorimetric Assay Kit
Arginase (EC 3.5.3.1) is the final enzyme of the Urea Cycle. It converts L-arginine into urea and L-ornithine and plays an important role in removing ammonium ion from the body. Arginase has two isoforms: Arginase I and Arginase II. Arginase I is mainly present in the liver and plays an important part in the urea cycle whereas Arginase II is present in kidney and other tissues and regulates Arginine/Ornithine concentration. Arginase deficiency can lead to severe symptoms including neurological impairment, dementia and hyperammonemia. Analysis of Arginase activity is fundamental to the study of the urea metabolic pathway. Assay Genie's Arginase Activity Assay kit is simple, sensitive and rapid. In this assay, Arginase reacts with arginine & undergoes a series of reactions to form an intermediate that reacts stoichiometrically with GenieRed Probe to generate the colored product (OD 570 nm). The kit can detect Arginase activity less than 0.2 U/L in 96-well assay format.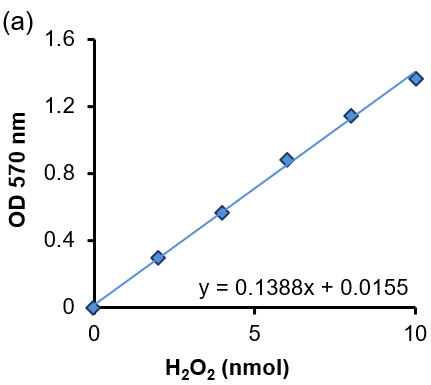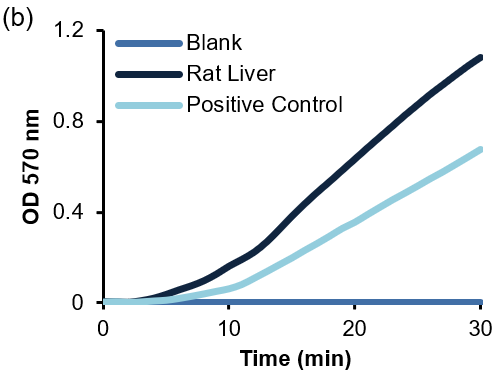 Figure: (a) H2O2 Standard Curve. (b) Arginase activity in rat liver lysate (3 µg) & Positive Control (2 μl). Assays were performed following the kit protocol.
Key Information
Description

Measurement of Arginase Activity in various tissues/cells
Analysis of urea cycle disorders

Simple, rapid & convenient
The assay can detect Arginase Activity less than 0.2U/L in 96-well assay format.

Arginase Assay Buffer
GenieRed Probe (in DMSO)
Arginase Substrate (Lyophilized)
Arginase Enzyme Mix (Lyophilized)
Arginase Developer (Lyophilized)
Arginase Converter Enzyme (Lyophilized)
H2O2 Standard (0.88 M)
Arginase Positive Control (Lyophilized)

For Research Use Only! Not For Use in Humans.
View All
Close