Description
Beta Galactosidase (Beta-Gal) Inhibitor Screening Kit (Fluorometric)
Beta Galactosidase (Beta-Gal, EC: 3.2.1.23) is an enzyme which hydrolyzes the Beta-galactosides into monosacchanides. Beta-Gal is widely used as a reporter gene in the field of molecular biology. Senescence Associated Beta-Gal (SA-Beta-Gal) is an isoform of Beta-Gal which has the optimal activity at pH 6.0, and is mostly used as a biomarker for senescent cells (K802). Beta-Gal is an essential enzyme in humans and its deficiency results in Morquio's Syndrome, a severe birth defect. Beta-Gal can also be used as a tool to study protein-protein interaction. In Assay Genie's Beta-Galactocidase Inhibitor Screening Kit, Beta-Gal converts Beta-Gal substrate to give an intensely fluorescent product (Ex/Em = 480/520 nm). In the presence of a Beta-Gal inhibitor, the reaction is impeded/abolished resulting in decrease or total loss of fluorescence. This assay kit can be used to screen/study/characterize the potential inhibitors of Beta Galactosidase. The assay is simple, high-throughput adaptable and can be performed within 30 min.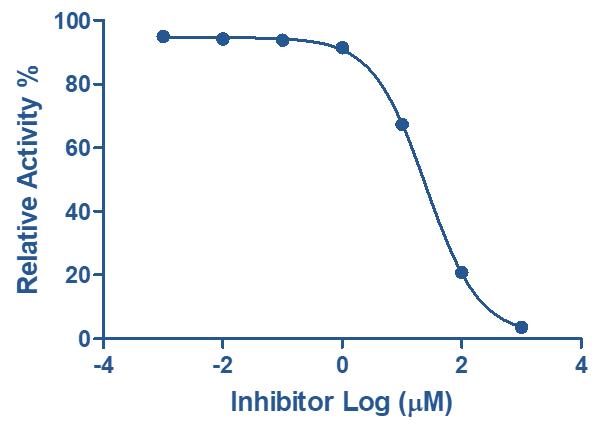 Figure: Inhibition of Beta-Galactosidase activity by β-Gal Inhibitor (b-D-Galactopyranosyl Amine). IC50 = 25.30 μM. Assay was performed following the kit protocol.
Key Information
Description

Fluorescence (Ex/Em = 480/520 nm)

Screening/characterizing/studying potential inhibitors of Beta-Galactosidase.
A simple and high-throughput adaptable assay kit used to fluorometrically (Ex/Em = 480/520 nm) screen/study/characterize potential inhibitors of beta galactosidase within 30 min.

Simple and High throughput adaptable
30 minutes short protocol
Detect using a fluorometer or fluorescence microplate reader.

Beta-Gal Assay Buffer
Beta-Gal Substrate (in DMSO)
Beta-Galactosidase
Beta-Gal Inhibitor Control

For Research Use Only! Not For Use in Humans.
View All
Close