Description
Beta-Hydroxybutyrate Fluorometric Assay Kit
Beta-Hydroxybutyrate (Beta-HB) is the most abundant of the ketone bodies (~78% of total ketone bodies in blood). Ketoacidosis (high concentrations of the ketone bodies) can be caused by a variety of conditions, such as diabetes, alcoholism and severe starvation. Ketoacidosis can be fatal if not treated. Additionally, ketogenic diets can increase the concentration of ketone bodies slightly in healthy individuals. Assay Genie's Beta-Hydroxybutyrate Assay Kit offers simplicity, enhanced sensitivity, and can be adapted to high-throughput applications. The assay is based on enzymatic oxidation of Beta-HB that results in generation of fluorescent signal (Ex/Em = 535/587 nm) which is directly proportional to the amount of Beta-HB. The kit offers an excellent alternative for measurement of Beta-HB when biological sample quantities are limited or subketogenic levels are suspected. The assay can detect Beta-Hydroxybutyrate as low as 4 µM in a variety of biological samples.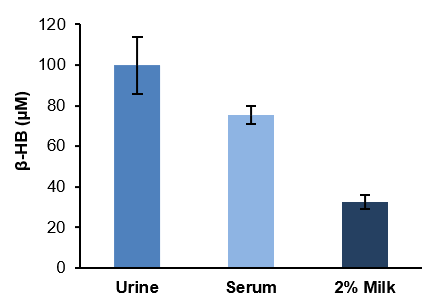 Figure: a) β-Hydroxybutyrate Standard Curve. b) Measurement of β-Hydroxybutyrate concentration in human urine (2.5 µl), serum (2.5 µl) 2% Milk (5 µl). All samples were deproteinized using 10 kDa Spin Column spiked with known amount of β-Hydroxybutyrate (400 pmol). Assays were performed following the kit protocol.
Key Information
Description

Fluorescence (Ex/Em = 535/587 nm)

Measurement of Beta-Hydroxybutyrate in various biological samples
Analysis of Beta-Hydroxybutyrate in pathological conditions

Simple, rapid & high-throughput adaptable
Highly sensitive: The assay can detect less than 4 µM of Beta-Hydroxybutyrate (Beta-HB) in various sample types.

Beta-HB Assay Buffer (in DMSO)
Beta-HB Enzyme Mix (Lyophilized)
Beta-HB Substrate Mix (Lyophilized)
Beta-HB Standard (Lyophilized)

For Research Use Only! Not For Use in Humans.
View All
Close