Description
Cathepsin E Activity Assay Kit (Fluorometric)
Cathepsin E (CTSE, EC: 3.4.23.34) is a gastric aspartyl protease that functions as a disulfide-linked homodimer. This protease has a specificity similar to that of pepsin A and cathepsin D. It is an intracellular proteinase that is found in highest concentration on the surface of epithelial mucus-producing cells of the stomach. It is the first aspartic proteinase expressed in the fetal stomach and is found in more than half of gastric cancers. Assay Genie's Cathepsin E Activity Assay Kit utilizes the ability of an active Cathepsin E to cleave a synthetic MCA-based peptide substrate to release free MCA, which can be easily quantified using a fluorometer or fluorescence microplate reader. This assay kit is simple, rapid and can detect Cathepsin E activity as low as 1 mU in biological samples.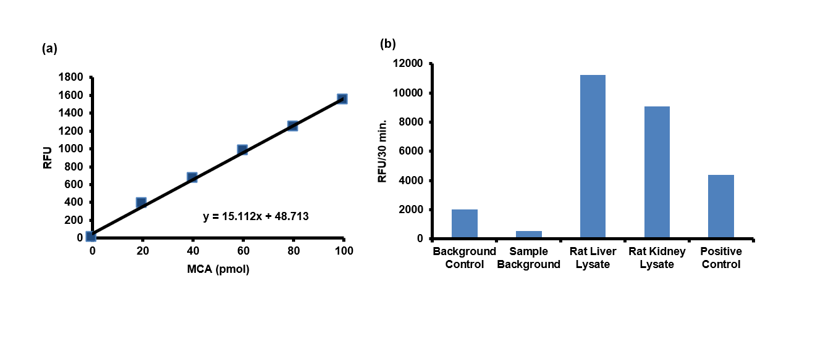 Figure: (a) MCA Standard Curve, (b) Cathepsin E activity in rat liver lysate (6 µg), rat kidney lysate (12 µg), and Positive Control (2 µl).
Assays were performed following the kit protocol.
Key Information
Description

Fluorescence (Ex/Em = 320/420 nm)

Detection of Cathepsin E activity in tissue and cell lysates
Determine activity of purified Cathepsin E

Rapid & convenient
Detects Cathepsin E activity as low as 1 mU in biological samples

CTSE Assay Buffer
CTSE Lysis Buffer
CTSE Substrate
Human Cathepsin E (Positive Control)
MCA Standard (1 mM)

For Research Use Only! Not For Use in Humans
View All
Close
Additional Information
| | |
| --- | --- |
| Product type: | Cellular Assay |
View All
Close