Description
Cholesterol Efflux Fluorometric Assay Kit (cell-based)
Cholesterol efflux from the peripheral tissues and cells in atherosclerotic plaque is an initial and critical step in Reverse Cholesterol Transport (RCT). RCT is the process by which extrahepatic cells, including macrophage-derived foam cells in arterial atherosclerotic plaque, transport excessive cholesterol back to the liver for bile acid synthesis and excretion, thus lowering the peripheral lipid burden. A negative correlation has been established between the in vitro efflux of cholesterol from macrophages and atherosclerosis. Assay Genie's Cholesterol Efflux Assay is a high-throughput screening assay for measuring cholesterol efflux in cells using fluorescently-labeled cholesterol. This assay provides a safe, sensitive, and reproducible method for measuring cholesterol efflux.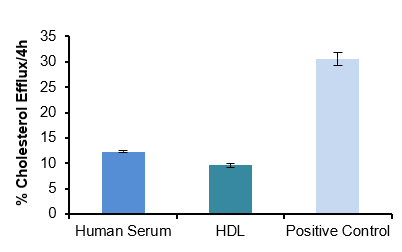 Figure 1: Percentage (%) Cholesterol Efflux: J774.1 cells were labeled with the Labeling Media and treated with various cholesterol acceptors like Human Serum, HDL (50 µg) or Positive control known to cause cholesterol efflux. Cholesterol efflux is expressed as % efflux elicited by cells in 4h.
Key Information
Description

Fluorescence (Ex/Em = 482/515 nm).

Screen serum samples or lipoproteins (isolated or recombinant) for cholesterol efflux.
Screen small molecules for their effect on cholesterol efflux (a valuable tool for drug discovery program).

Simple & Rapid Protocol
Convenient: Non-Radioactive, no special handling or disposal required
High-Throughput
Accurate: reproducible results with low intra & inter assay variability

Labeling Reagent
Equilibration Buffer
Reagent A
Reagent B
Cell Lysis Buffer
Positive Control
Serum Treatment Reagent

For Research Use Only! Not For Use in Humans.
View All
Close