Description
Cytochrome P450 2D6 (CYP2D6) Activity Assay Kit (Fluorometric)
Cytochrome P450 2D6 (CYP2D6, EC 1.14.14.1) is a member of the cytochrome P450 monooxidase (CYP) family of microsomal xenobiotic metabolism enzymes. CYPs are membrane-bound hemeproteins responsible for Phase I biotransformation reactions, in which lipophilic drugs and other xenobiotic compounds are converted to more hydrophilic products to facilitate excretion from the body. CYP2D6 catalyzes oxidation of lipophilic bases with an aromatic ring and a nitrogen atom and is highly expressed in liver and brain tissue. The enzyme is responsible for metabolism of nearly 25% of all small molecule drugs commonly used by humans, particularly psychiatric drugs such as antidepressants, antipsychotics and stimulants. The CYP2D6 gene is highly polymorphic in the human population, with CYP2D6 activity ranging from complete metabolic deficiency to ultra-rapid metabolism. Due to this wide phenotypic variability, CYP2D6 is frequently implicated in drug toxicity and clinical drug/drug interactions. In addition, for drugs whose pharmacological activity requires metabolism from a pro-drug form, CYP2D6 inhibition or allelic deficiency can lead to decreased drug efficacy. Assay Genie's CYP2D6 Activity Assay Kit enables rapid measurement of native or recombinant CYP2D6 activity in biological samples such as liver microsomes. The assay utilizes a non-fluorescent CYP2D6-selective substrate that is converted into a highly fluorescent metabolite detected in the visible range (Ex/Em = 390/468 nm), ensuring a high signal-to-background ratio with little interference by autofluorescence. CYP2D6 specific activity is calculated by running parallel reactions in the presence and absence of the potent CYP2D6-selective inhibitor quinidine and subtracting any residual activity detected with the inhibitor present. The kit contains a complete set of reagents sufficient for performing 100 sets of paired reactions (in the presence and absence of inhibitor).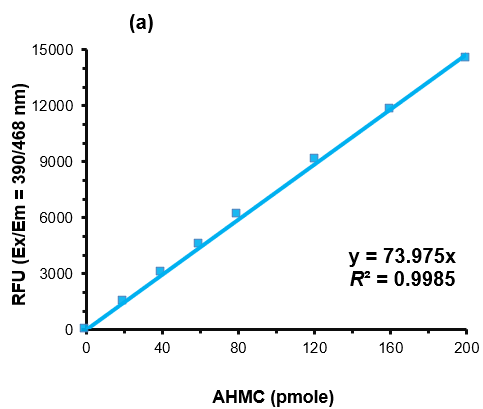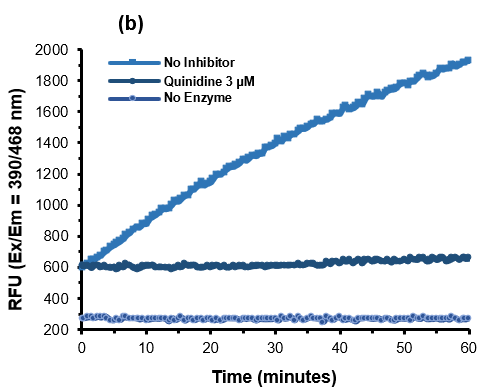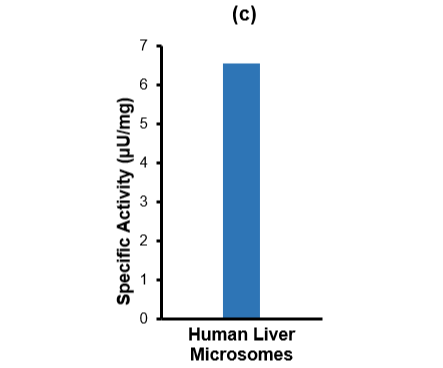 Figure: (a) AHMC standard curve. One mole of AHMC corresponds to the metabolism of one mole of CYP2D6 substrate. (b) Reaction kinetics of fluorogenic substrate metabolism in human liver microsomes (0.5 mg/ml) at 37°C in the presence and absence of the selective CYP2D6 inhibitor quinidine (the no inhibitor reaction contained a final concentration of 0.5% acetonitrile). (c) Specific activity of CYP2D6 in pooled human liver microsome sample (0.5 mg/ml). Assays were performed according to the kit protocol.
Key Information
Description

Fluorescence (Ex/Em 390/468 nm)

Rapid assessment of native/recombinant CYP2D6 activity in lysates or microsomal fractions prepared from tissues or cells.
Screening of drugs and novel ligands for interaction with native/recombinant CYP2D6.

Simple, convenient, highly sensitive
Fluorescent assay enables easy determination of CYP2D6 activity in a variety of biological samples
The substrate shows low background and a high signal-to-noise ratio
Kit includes CYP2D6 inhibitor Quinidine and a stable, recombinant human CYP2D6 co-expressed with NADPH Reductase as a positive control

CYP2D6 Assay Buffer
AHMC Standard
CYP2D6 Inhibitor (Quinidine)
NADPH Generating System (100X)
Beta-NADP+ Stock (100X)
CYP2D6 Substrate
Recombinant Human CYP2D6

For Research Use Only! Not For Use in Humans.
View All
Close