Description
Dihydrofolate Reductase Activity Kit (Colorimetric)
Dihydrofolate Reductase (DHFR; 5,6,7,8-tetrahydrofolate NADP oxidoreductase; EC 1.5.1.3), is a ubiquitous enzyme that is present in all eukaryotic and prokaryotic cells. It catalyzes the reduction of dihydrofolate (FH2) to tetrahydrofolate (FH4) using NADPH as a cofactor. FH4 is essential for a number of enzymes that are necessary for the de novo synthesis of purines, thymidylic acid and some amino acids. Inactivation of the DHFR enzymatic activity causes reduction of the intracellular level of FH4, inhibition of RNA and DNA synthesis, and cell death. For this reason, DHFR has been a critically important enzyme as a molecular target in drug discovery. Assay Genie's Dihydrofolate Reductase assay kit is based on the ability of DHFR to catalyze the oxidation of NADPH. The reaction progress is followed by monitoring the decrease in absorbance at 340 nm. Our assay has been optimized to be carried out in a 96- well plate. The assay is simple, sensitive and can detect as low as 4 mU/ml in a variety of samples.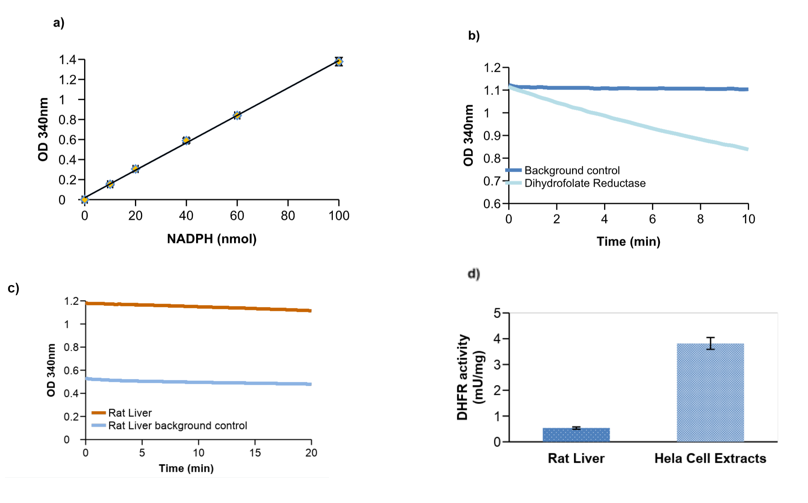 Figure: (a) NADPH standard curve; (b) Purified Dihydrofolate Reductase activity; (c) Dihydrofolate Reductase activity in Rat Liver (100 µg); (d) Dihydrofolate Reductase specific activity was calculated from Rat Liver (100 µg) or Hela cells (80 µg). Assays were performed following the kit protocol.
Key Information
Description

Detection of Dihydrofolate Reductase activity

Rapid, sensitive and convenient
The kit measures total Activity of DHFR Activity with limit of quantification 4 mU/ml using recombinant DHFR

DHFR Assay Buffer
DHFR Substrate
Dihydrofolate Reductase
NADPH

For Research Use Only! Not For Use in Humans.
View All
Close