Description
Direct Glucose Uptake Assay Kit
Glucose uptake is one of the key processes for cellular glucose metabolism. The study of glucose uptake can provide important information for understanding glucose metabolism and regulation in normal and disease development such as diabetes. Assay Genie's Direct Glucose Uptake Assay kit is simple, ultra-sensitive and easy to use. A specific hexokinase inhibitor that inhibits hexokinase, the first enzyme metabolizing glucose in cells is used to arrest glucose consumption after its uptake.
Glucose Uptake is measured by using a set of enzymatic reactions that specifically oxidize glucose producing intermediates that react with the OxiGenie Probe generating a fluorescence signal (Ex/Em=535/587 nm). The fluorescence signal is directly proportional to the amount of glucose that has been taken up and accumulated inside the cells. Unlike other kits detecting glucose derivatives, this glucose uptake assay provides a direct, powerful tool for studying this process as well as for screening and characterization of drugs that regulate glucose uptake during normal and disease development.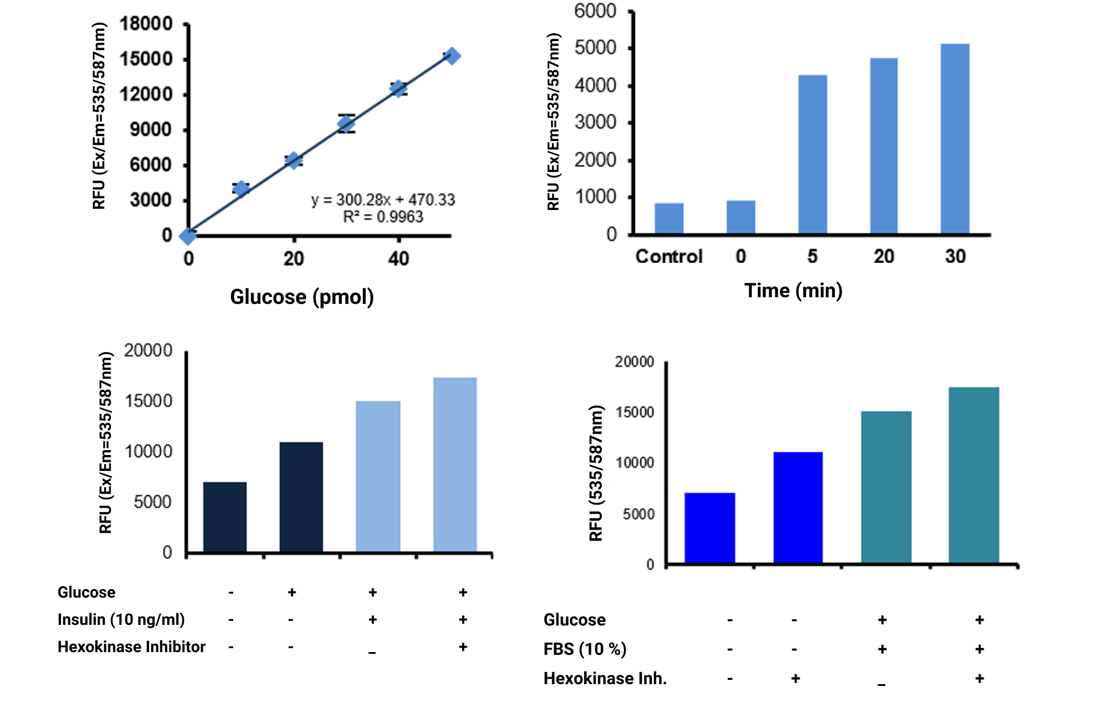 Figures. A) Glucose standard curve. B) Glucose Uptake time course, Jurkat Cells: Cells were starved (Glucose-free, FBS-free media, inhibitor incubation time: 2 h. C) 3T3-L1 cells were Glucose and FBS Deprived for 24 hrs, switched to media with Glucose, stimulated without or with Insulin (10 ng/ml) for 15 min (green bars), with or without 1X Inhibitor (pink bars) D). HeLa cells were Glucose and FBS deprived for 2 hr, then switched to Glucose and FBS-free media (Control), or complete media (10% FBS) with or without 1X Inhibitor for 30 min (Blue bars: no inhitor; maroon bars: with inhibitor).
Key Information
Description

Detection method- Fluorescence (535/587 nm)
Species reactivity- Mammalian
Application- This easy to use non-radioactive kit is highly sensitive and can detect glucose uptake as low as 5 pmol/well.

Fluorescence (535/587 nm)

Simple procedure
Fast and convenient
The assay is easy, non-radioactive, and highly sensitive

Assay Buffer
OxiGenie Probe (in DMSO)
Enzyme Mix
Hexokinase Inhibitor
Glucose Standard (100 mM)
Glucose (1 M, Sterile)

For Research Use Only! Not For Use in Humans.
View All
Close
Additional Information
| | |
| --- | --- |
| Product type: | Cellular Assay |
View All
Close