Description
Fructosamine Assay Kit (Colorimetric)
Fructosamines are stable glycated proteins that are formed by a non-enzymatic reaction between glucose and serum proteins (usually albumin). Elevated concentrations of fructosamine can be found in serum samples of diabetic patients and its detection can be used to assess the glycemic status of diabetics. The half-life of albumin is shorter when compared to hemoglobin (t1/2= 20 days vs. 50 days respectively). Thus, fructosamine levels reflect the efficacy of treatment in diabetic patients during short-term periods, and provide earlier and more sensitive detection for diabetes than many other carbohydrate tests. Assay Genie's Fructosamine Assay Kit is a microplate-based colorimetric assay for the direct determination of fructosamine levels in serum. The assay is based on the ability of fructosamine to reduce nitroblue tetrazolium (NBT), forming a colored end-product (purple) under alkaline conditions. The formation rate of formazan is proportional to the concentration of fructosamine in samples and the increase in absorbance (OD 530nm) can be monitored using a spectrophotometer. The kit includes a Thiol Blocking Reagent and a Sample Cleaning Mix that minimizes the interference of other endogenous reducing agents which ensures accurate measurements of Fructosamine in biological samples. The assay is simple, reproducible and can detect as low as 20 µmol/L of fructosamine in samples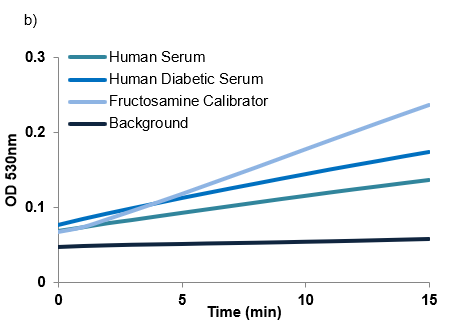 Figure: (a) Fructosamine Reaction Curves. (b) Fructosamine concentrations (µmol/L): Estimated Fructosamine concentrations are 222.4 ± 20.7 µmol/L in healthy human Serum (10 µl) and 458.8 ± 43.9 µmol/L in Human Diabetic Serum (10 µl), respectively. Assays were performed following the kit protocol.
Key Information
Description

Detection method- Absorbance (530 nm)
Species reactivity- Mammalian

Measurement of Fructosamine levels in serum

Simple procedure; takes ~ 1 hour
Fast and convenient
This sensitive kit contains all necessary reagents for accurate measurement of Fructosamine, including a Sample Cleaning Mix that removes matrix interferences

Fructosamine Buffer A
NBT (in DMF)
Thiol Blocking Reagent
Sample Cleaning Mix (Lyophilized)
Fructosamine Buffer B
Fructosamine Calibrator (3.2 mM)

For Research Use Only! Not For Use in Humans.
View All
Close