Description
GenieGlow Highly Stable Luciferase/Luciferin Reagent
Assay Genie's Highly Stable Luciferase/Luciferin Reagent utilizes a genetically modified variant derived from the Luciferase of Diaphanes pectinealis (Chinese Firefly) endemic to Yunnan province, China. Assay Genie's luciferase (rLucHS) has been modified to provide enhanced stability compared to the normal phenotype of Photinus pyralis, as well as a broader and more physiologically relevant effective pH range. At all pHs below ~8.2, rLucHS is significantly more active than commercial Photinus pyralis luciferase and is stable for weeks at room temperature and >60 minutes at 37°C. The specific activity of rLucHS is ~ 5x10RLU/mg protein. This reagent has application to measure ATP levels in a wide variety of biological samples such as cells, tissues and fermentation broth, etc.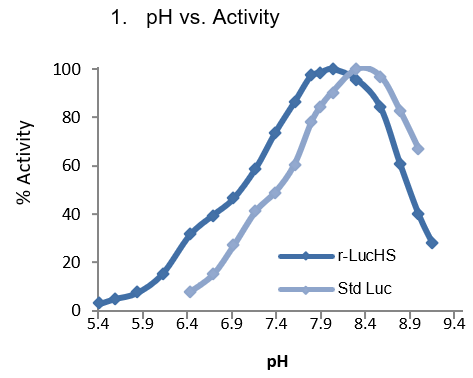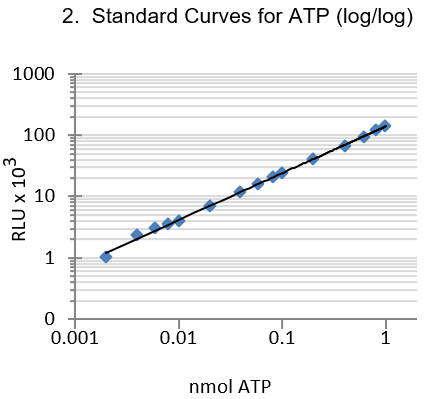 Figure 1: 1. pH vs activity curve 2. Stadard Curve for ATP (log/log) obtained using kit protocol.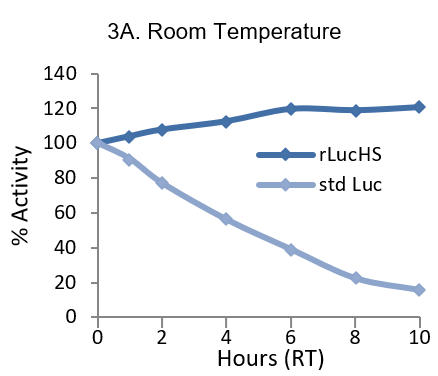 Figure 2: (3A) rLuvHS Stability at RT and 37°C (3B) vs. Standard Commercial Luciferase
Key Information
Description

100 Assays
1000 Assays
10000 Assays

The activity profile shows a linear detection range for ATP values as low as 10 fmol/assay (1 nM).

Stable for >10 hours at room temperature and >60 minutes at 37°C.

SuperBrite Reconstitution Buffer
rLucHS Reagent Mix

For Research Use Only! Not For Use in Humans.
View All
Close
Additional Information
| | |
| --- | --- |
| Product type: | Molecular Tools |
View All
Close