Description
HDAC6 Inhibitor Screening Kit (Fluorometric)
Histone Deacetylase 6 (HDAC6, EC 3.5.1.98), is a class IIb HDAC enzyme that deacetylates an N-acetyl lysine of histone and non-histone protein substrates. It is a unique member of HDAC family as it contains two deacetylase domains that are proposed to function independently of each other. HDAC6 can shuttle between the nucleus and cytoplasm, suggesting potential extra-nuclear functions by regulating the acetylation status of non-histone substrates. HDAC6 also affects transcription and translation by regulating the heat-shock protein 90 (Hsp90) and stress granules. Elevated HDAC6 activity is associated with cell motility and catalyzes increases tubulin deacetylation, thus influencing cancer cell metastasis. In addition, mutations in HDAC6 gene have been associated with Alzheimer's disease. HDAC6-selective inhibitors are considered as promising targets against autoimmune, inflammatory and oncology diseases such as breast and ovarian cancer. Assay Genie's HDAC6 Inhibitor Screening Kit utilizes deacetylase activity of HDAC6 towards a synthetic acetylated-peptide substrate resulting in the release of an AFC fluorophore, which can be easily quantified using a conventional microplate reader. In the presence of an HDAC6-selective inhibitor (Tubacin), the deacetylase activity of HDAC6 is reduced/abolished resulting in decrease or total loss of the fluorescence. This simple and high-throughput adaptable assay kit can be used to screen/study/characterize potential inhibitors of HDAC6.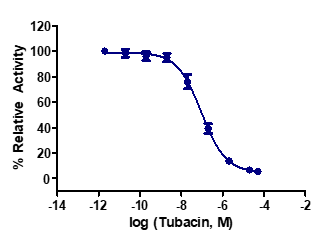 Figure: The inhibition of the enzymatic activity of HDAC6 in the presence of different concentrations of Tubacin, an HDAC6-selective inhibitor, is shown in the figure (IC 50 = 95.7 nM, n = 4). Data was fitted to a four parameter dose-response sigmoidal curve with variable slope using Graphpad Prism. The assays were performed according to the kit protocol
Key Information
Description

Detection method - Fluorescence (Ex/Em 380/490 nm)
Species reactivity - Human
Applications - Screening of drugs and novel ligands for interaction with human recombinant HDAC6

Fluorescence (Ex/Em 380/490 nm)

Rapid, high-throughput screening of drugs and novel ligands.
Development of structure-activity relationship (SAR) models to predict HDAC6 interaction liability of novel compounds.

Simple, highly sensitive, high-throughput compatible
Rapid screening of HDAC6 inhibitors
Kit includes Tubacin, an HDAC6 inhibitor, and a stable, recombinant human HDAC6

HDAC6 Assay Buffer
Human HDAC6
HDAC6 Substrate
Developer
HDAC6 Inhibitor (Tubacin, 1 mM)

For Research Use Only! Not For Use in Humans.
View All
Close
Additional Information
| | |
| --- | --- |
| Product type: | Molecular Tools |
View All
Close