Description
Hexokinase Colorimetric Assay Kit
Hexokinases (HK) are found in many organisms including bacteria, plants and mammals and play an important role in glucose metabolism. Hexokinases phosphorylate glucose and generate glucose-6-phosphate for glycolysis. Hexokinases have four isoforms (HK-I, II, III and IV). HK-I, HK-II and HK-III have low Km, while HK-IV has 100 fold high Km. Hexokinase deficiency leads to severe human diseases such as X-linked muscular dystrophy and a rare autosomal recessive hemolytic anemia. On the other hand, increased hexokinase activity is detected in various human tumors and is associated with metastasis. Early detection of abnormal hexokinase activity is crucial for diagnosis, prediction and treatment of the disease. In Assay Genie's Hexokinase Assay kit, glucose is converted to glucose-6-phosphate by hexokinase; the glucose-6-phosphate is oxidized by glucose-6-phosphate dehydrogenase to form NADH, which reduces a colorless probe to a colored product with strong absorbance at 450 nm. The assay is simple, sensitive and rapid and can detect hexokinase activity even less than 0.1 mU/well.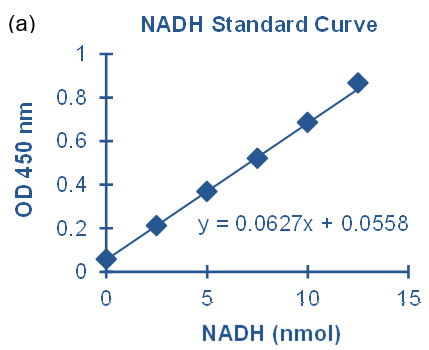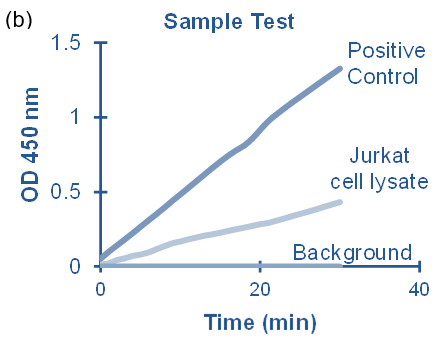 Figure 1: (a) NADH standard curve.(b) Hexokinase activity in Positive Control and Jurkat cell lysate (40 μg). Assays were performed following kit protocol.
Key Information
Description

Measurement of Hexokinase activity in various tissues/cells.
Analysis of glucose metabolism and cell signaling in various cell types.
Screening anti-diabetic drugs.

Can detect hexokinase activity even less than 0.1 mU/well

HK Assay Buffer
HK Substrate
HK Coenzyme (lyophilized)
HK Enzyme Mix (lyophilized)
HK Developer (lyophilized)
NADH Standard (lyophilized)
HK Positive Control (lyophilized)

For Research Use Only! Not For Use in Humans.
View All
Close