Description
Lactate Dehydrogenase Activity Colorimetric Assay Kit
Lactate dehydrogenase (LDH) is an oxidoreductase (EC 1.1.1.27) present in a wide variety of organisms. It catalyses the interconversion of pyruvate and lactate with concomitant interconversion of NADH and NAD When disease or injury or toxic material damages tissues, cells release LDH into the bloodstream. Since LDH is a fairly stable enzyme, LDH has been widely used to evaluate the presence of damage and toxicity of tissue and cells. Quantification of LDH has broad range of applications. In this colorimetric LDH quantification assay, LDH reduces NAD to NADH, which then interacts with a specific probe to produce a color (ax = 450 nm). The kit quantifies LDH activity in variety of biological samples such as in serum or plasma, cells, culture medium and fermentation, etc. The assay is quick, convenient, and sensitive. The kit can detect 1 -100 mU/ml of LDH directly in samples.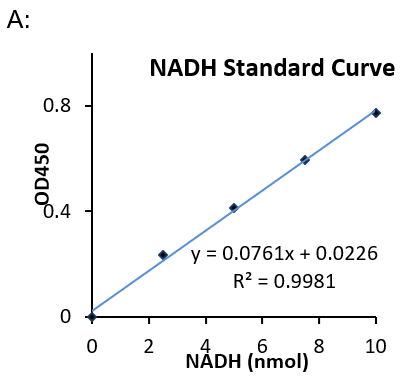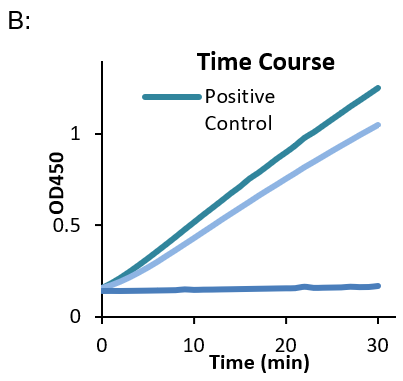 Figure: (A) NADH Standard curve. (B) Kinetic profiles of approx 0.5 mU of a sample of pure LDH (Positive control) and 2 µl frozen human serum from a commercial source using buffer as a background control.
Key Information
Description

The kit can detect 1 -100 mU/ml of LDH directly in samples.

Simple procedure; takes ~ 30 minutes
Fast and convenient
Sensitive assays for measuring LDH activity in various biological samples and the kit is also suitable for high throughput analyses.

LDH Assay Buffer
LDH Substrate Mix (lyophilized)
NADH Standard (0.5 µmol; lyophilized)
LDH Positive Control

For Research Use Only! Not For Use in Humans.
View All
Close