Description
Lipoprotein Lipase Activity Fluorometric Assay Kit
Lipoprotein lipase (LPL) is a member of the lipase family that hydrolyzes triglycerides in chylomicrons and very low-density lipoprotein (VLDL). Digestion of triglycerides in VLDL by LPL leads to their conversion to intermediate-density lipoprotein (IDL) and then low-density lipoprotein (LDL). LPL is found attached to the luminal surface of endothelial cells in the heart, muscle, and adipose tissue. Mutations in lipoprotein lipase can lead to a variety of disorders such as lipoprotein metabolism, hypertriglyceridemia etc. Overexpression of LPL in mice has been shown to promote obesity and insulin resistance. Assay Genie's LPL Activity Assay Kit contains a quenched substrate that fluoresces upon hydrolysis by LPL. The fluorometric intensity is directly proportional to the amount of substrate hydrolyzed. This assay detects total lipase activity when no inhibitor is used. Comparing results in the presence or absence of an LPL inhibitor allows for quantification of LPL activity specifically. Our results indicate that the majority (~90%) of lipase activity detected by this kit in post-heparin treated mouse plasma is from LPL. To determine the exact LPL specific activity in mouse plasma, measure activity in pre- and post-heparin treated plasma.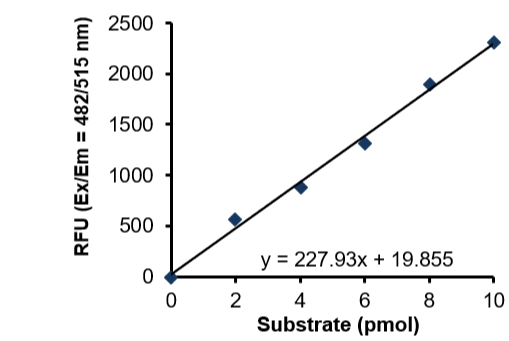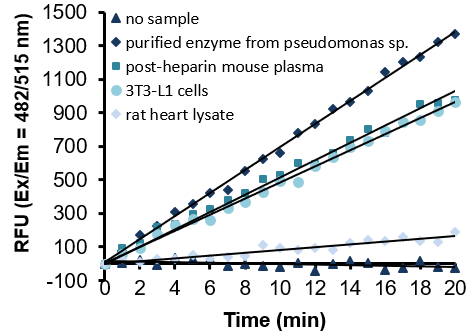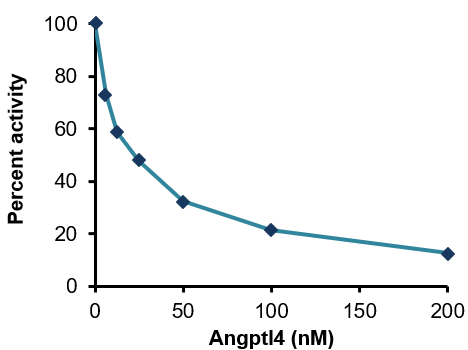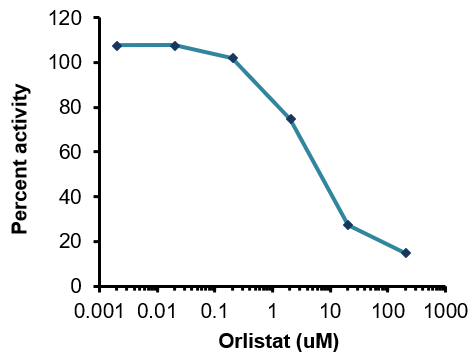 Figure: (a) Substrate Standard Curve, (b) Measurement of LPL activity in purified enzyme from pseudomonas sp. (5 ng), post-heparin treated mouse plasma (2 µl), 7-day post-differentiated 3T3-L1 cell lysate (100 µg), and rat heart lysate (200 µg). (c) Inhibition of LPL activity from post-heparin treated mouse plasma by Angptl 4, an LPL specific inhibitor. The assay was run for 1 hr and the activity was determined by calculating the slope. The IC50 was determined to be 22.6 nM. (d) Inhibition of Positive Control by Orlistat, a generic lipase inhibitor. The assay was run for 1 hr and the IC 50 was determined to be 11.4 µM.
Key Information
Description

Fluorescence (Ex/Em = 482/515 nm)

Measurement of LPL activity in purified wild type or recombinant protein as well as in plasma, cell and tissue lysates

Simple procedure, wide applicability
Fast and convenient
Highly Sensitive Fluorometric assay for measuring Lipoprotein Lipase activity in various biological samples

LPL Assay Buffer
Substrate (in DMSO)
Positive ControlInhibitor (Orlistat)

For Research Use Only! Not For Use in Humans.
View All
Close