Description
Lysozyme Inhibitor Screening Kit
Lysozyme (EC3.2.1.17), also known as muramidase or N-acetylmuramide glycanhydrolase, is a glycoside hydrolase. It is ubiquitously found in a wide range of biological fluids such as tears, saliva, serum, where it serves as a key effector of the innate immune system. It is also synthesized by certain carcinomas. The excessive production of lysozymes by cancer cells (especially myelomonocytic leukemia) results in higher levels of lysozyme causing renal failure. It has been demonstrated that the expression level of lysozyme is an independent prognostic factor which can be used to predict both relapse-free survival and overall survival in patients with breast carcinomas. Therefore, lysozyme inhibitors may constitute attractive, potential targets for developing anti-inflammatory and/or anti-tumor drugs. Assay Genie's Lysozyme Inhibitor Screening Kit uses N,NN-Triacetylchitotriose -a competitive inhibitor that binds to the active site of lysozyme. The inhibitor decreases the catalytic ability of lysozyme to hydrolyze a fluorogenic substrate. The kit provides a simple, rapid, sensitive and reliable test suitable for screening of lysozyme inhibitors.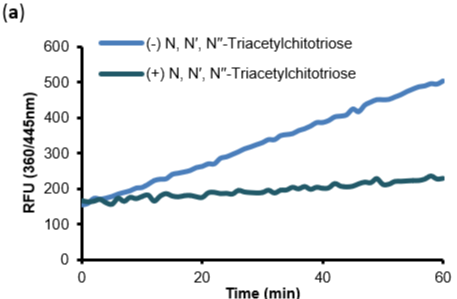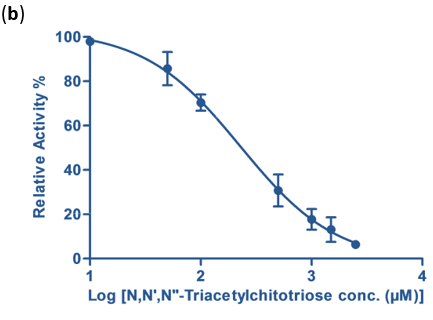 Figure: (a) Progress curve of lysozyme activity in the presence or absence of the inhibitor N,N′,N′′-Triacetylchitotriose. (b) IC 50 of N,N′,N′′- Triacetylchitotriose was calculated to be 227.5 ± 1.2 µM. Assay was performed following the kit protocol.
Key Information
Description

Fluorescence (Ex/Em = 360/445 nm)

The kit provides a rapid, simple, sensitive, and reliable test suitable for high throughput screening of Lysozyme inhibitors.
Inhibitor control (N,N',N''-Triacetylchitotriose) is included to compare the efficacy of test inhibitors.

Simple procedure
Fast and convenient
The assay is sensitive, stable and high-throughput adaptable

Lysozyme Assay Buffer
Lysozyme substrate (in DMSO)
Lysozyme (lyophilized)
N,N',N''-Triacetylchitotriose

For Research Use Only! Not For Use in Humans.
View All
Close
Additional Information
| | |
| --- | --- |
| Product type: | Cellular Assay |
View All
Close