Description
Methylglyoxal (MG, 2-oxopropanal, pyruvic aldehyde) is a highly reactive dicarbonyl compound formed during glycolysis and sugar fermentation. It is an important precursor of advanced glycation end products (AGEs). Endogenous MG is present in many food items and beverages. For example, high levels of MG have been reported in Manuka Honey and some soft drinks. Additionally, cooking and some storage techniques can induce the synthesis of MG, such as coffee brewing, and bread toasting. It has been shown that MG has antimicrobial activity against some bacterial strains, including Streptococcus, H. pylori, E. coli and other bacteria resistant to standard antibiotic treatments. Assay Genie's Methylglyoxal Assay Kit (Colorimetric) enables the detection of MG using a set of engineered enzymes and a chromophore. The reduced chromophore, final product of the assay, produces a stable signal, which can be easily quantified at 450 nm using a microplate reader and its signal is directly proportional to the amount of MG in samples. The assay is simple, specific, reproducible, and can detect as low as 0.5 nmol/well of MG in a 100 µl reaction.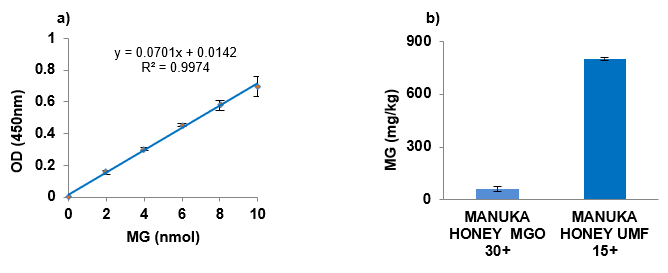 Figure: (a) MG Standard Curve. (b) Measurement of MG in Manuka Honey (MGO 30+) (10 µl; Dilution Factor: 2, in dH 2 O); Manuka Honey (UMF 15+) (10 µl; Dilution Factor: 10, in dH 2 O). All assays were performed following kit protocols.
*According to reference: MG in Manuka Honey (MGO 30+): ≥ 30 mg/kg; MG in Manuka Honey (UMF 15+): ≥ 510 mg/kg.
Key Information
Description

Detection method- Absorbance (OD 450 nm)
Species reactivity- Eukaryotes
Applications- This Kit provides a simple in vitro assay for detecting Methylglyoxal levels in biological samples.

Measurement of Methylglyoxal in food products

Simple procedure; takes ~ 2 hours
Fast and convenient
The assay is sensitive, stable and high-throughput adaptable Useful for the estimation of Methylglyoxal in biological samples

MG Assay Buffer
Substrate Mix A
Substrate Mix B
Enzyme Mix A
Enzyme Mix B
Enzyme Mix C
MG Standard (20 mM)

For Research Use Only! Not For Use in Humans.
View All
Close