Description
Superoxide Dismutase (SOD) Activity Colorimetric Assay Kit
Superoxide dismutase (SOD) is one of the most important antioxidative enzymes. It catalyzes the dismutation of the superoxide anion into hydrogen peroxide and molecular oxygen. The sensitive SOD assay kit utilizes WST-1 that produces a water-soluble formazan dye upon reduction with superoxide anion. The rate of the reduction with a superoxide anion is linearly related to the xanthine oxidase (XO) activity, and is inhibited by SOD (below). Therefore, the inhibition activity of SOD can be determined by a colorimetric method.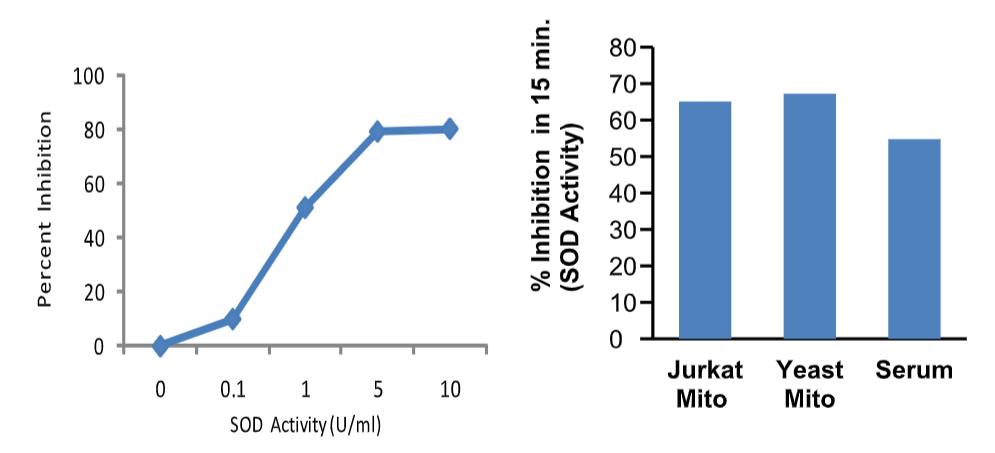 Figure: SOD Activity (% inhibition rate): human serum (10 µl) and isolated mitochondria from Jurkat cells (10 µg), and yeast (Saccromyces cerevisiae, 100 ug), was used to determine SOD Activity according to the kit protocol. Activity was measured in 15 min. at 37°C.
Key Information
Description

Kit contains the necessary reagents for convenient measurement of activity of Superoxide Dismutase (SOD) by colorimetric method.

Simple one-step procedure; takes around than 30 minutes
Fast and convenient

WST Solution
SOD Enzyme Solution
SOD Assay Buffer
SOD Dilution Buffer

For Research Use Only! Not For Use in Humans.
View All
Close