Description
TMRE Mitochondrial Membrane Potential Assay Kit (Fluorometric)
Mitochondria are the powerhouse of the cells and generate energy in the form of ATP. Mitochondria utilize oxidizable substrates to produce a membrane potential in the form of a proton gradient across the mitochondrial inner membrane. Mitochondrial membrane potential is tightly interlinked to many mitochondrial processes, including ATP synthesis, ROS, calcium sequestration and import of proteins into the mitochondrion. Therefore, pharmacological changes in mitochondrial membrane potential are associated with several pathological parameters. Assay Genie's TMRE Mitochondrial Membrane Potential Assay Kit uses TMRE (tetramethylrhodamine, ethyl ester) to label active mitochondria. TMRE is a cell-permeable, positively-charged, red-orange dye that readily accumulates in active mitochondria. Protonophores like FCCP and CCCP induces dissipation of mitochondrial membrane thus results in compromised staining.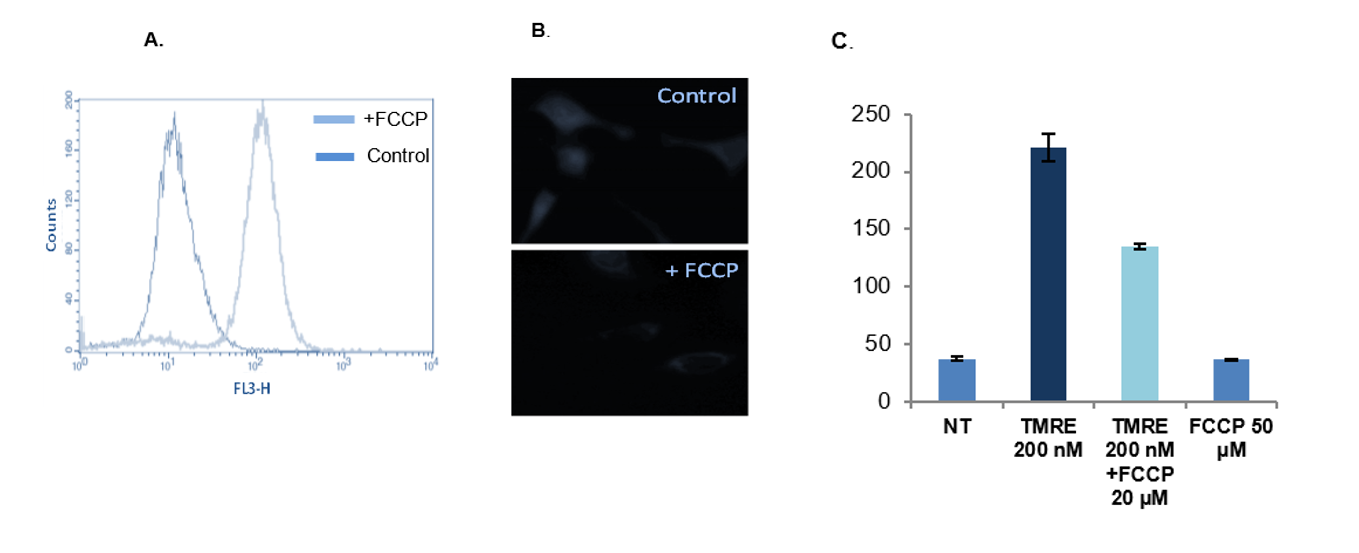 Figure: TMRE Mitochondrial Membrane Potential Assay:(a) and (b) Hela cells (10 4 cell/well) were cultured overnight in a cell culture plate (White Plate Clear Bottom) with media containing 10% FCS and assayed for Mitochondrial Membrane Potential according to the kit protocol. NT: No treatment. (c) Flow cytometry histogram of Jurkat cells stained with 100 nM TMRE with (light blue) or without (dark blue) treatment with 40 µM FCCP. HeLa cells were treated with or without FFCP (20 µM) and stained with 100 nM TMRE for 20 min. in media, washed briefly with PBS and immediately imaged.
Key Information
Description

Fluorescence (Ex/Em = 535/587 nm), FACS [FL-3 (Red) channel], Fluorescent microscopy [red filter (Ex/Em = 549/575 nm)]

Labeling of active mitochondria in cells
Screening of compounds which may compromise mitochondrial membrane potential

Convenient method
Based on cell-permeable, positively-charged, red-orange dye ™RE, that readily accumulates in the active mitochondria
Includes Protonophores FCCP to validate the assay

Assay Buffer
TMRE Dye (1 mM, in DMSO)
Negative Control (FCCP, 40 mM)

For Research Use Only! Not For Use in Humans.
View All
Close