Description
Acid Phosphatase Activity Colorimetric Assay Kit
Acid phosphatases (AP) dephosphorylate phosphate groups from phosphate esters under acid conditions. Different acid phosphatase isozymes are found in different organs, and their serum levels are used as a diagnostic for disease in the corresponding organs. Elevated prostatic acid phosphatase levels may indicate the presence of prostate cancer and elevated tartrate-resistant acid phosphatase levels may indicate the bone disease. Assay Genie's Acid Phosphatase Assay Kit is a high sensitivity, simple, direct and HTS-ready colorimetric assay designed to measure AP activity in serum and other samples. It is suitable for research and drug discovery. The kit uses p-nitrophenyl phosphate (pNPP) as a phosphatase substrate which turns yellow (ax = 405 nm) when dephosphorylated by AP. The kit can detect µU acid phosphatase activity in samples.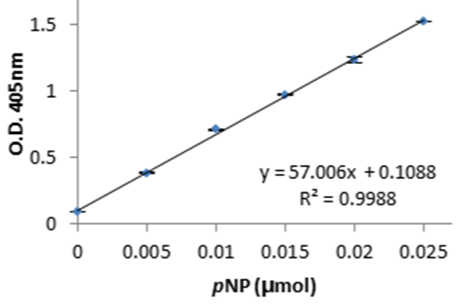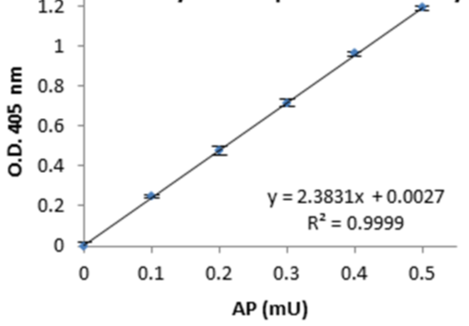 Figure: (a) pNP Standard Curve (b) AP Enzyme Samples after 40 minutes following kit protocol.
Key Information
Description

Phosphate concentrations between 1 µM and 1 mM, with a lower limit of detection of approximately 0.1 nmol, can be directly determined.

Simple procedure; takes ~ 3 hours
Fast and convenient
The assay is sensitive and stable
The TUNEL-based assay kit provides complete components including positive and negative control cells for convenient detection of DNA fragmentation in cultured cells and tissue sections.

AP Assay Buffer
pNPP Substrate (10 TAB)
AP Enzyme
Stop Solution

For Research Use Only! Not For Use in Humans.
View All
Close