Description
Triglyceride (TG) Fluorometric Assay Kit
Triglycerides (TG) are the main constituents of vegetable oil, animal fat, LDL and VLDL, and play an important role as transporters of fatty acids as well as an energy source. TG is broken down into fatty acids and glycerol, after which both can serve as substrates for energy producing and metabolic pathways. High blood levels of TG are implicated in atherosclerosis, heart disease and stroke as well as in pancreatitis. Assay Genie's Triglyceride Assay kit is suitable for measuring triglyceride levels in samples, which contain reducing substances that may interfere with oxidase-based assays. In this assay, TG is hydrolyzed to glycerol and fatty acid. The glycerol reacts with Triglyceride Enzyme Mix to form an intermediate product, which in turn reacts with PicoProbe & Developer to generate the fluorescence. The generated fluorescence is directly proportional to the amount of triglycerides. This high-throughput adaptable assay kit is simple, sensitive and easy to use & can detect less than 0.4 µM triglycerides in a variety of samples.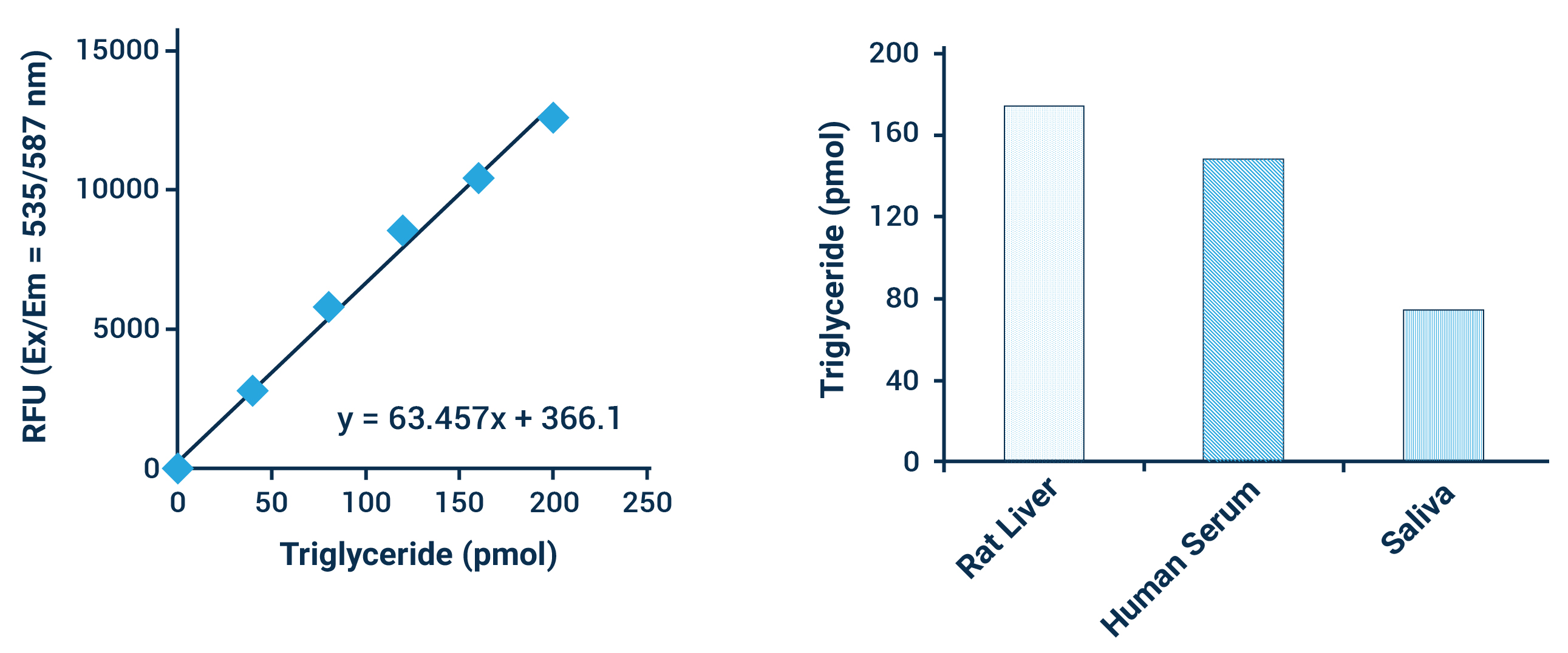 Figure 1: (a) Triglyceride Standard Curve (b) measurement of triglyceride levels in rat liver (~3 µg) human serum (2 µl of 1:10 diluted) saliva (10 µl). Assays were performed following the kit protocol.
Key Information
Description

Fluorescence (Ex/Em 535/587 nm)

Measurement of triglycerides in various tissues, cells & other biological fluids.
Analysis of lipid metabolism.
Mechanistic study of cardiovascular disease.

Simple, sensitive, easy to use, and high-throughput adaptable.
Kit contains all necessary reagents for accurate measurement of triclyceride levels.
This kit can detect less than 0.4 µM triglycerides in a variety of samples.

Triglyceride Assay Buffer (in DMSO)
Lipase (lyophilized)
Triglyceride Enzyme Mix (lyophilized)
Triglyceride Developer (lyophilized)
Triglyceride Standard (1 mM)

For Research Use Only! Not For Use in Humans.
View All
Close