Top 10 Therapeutics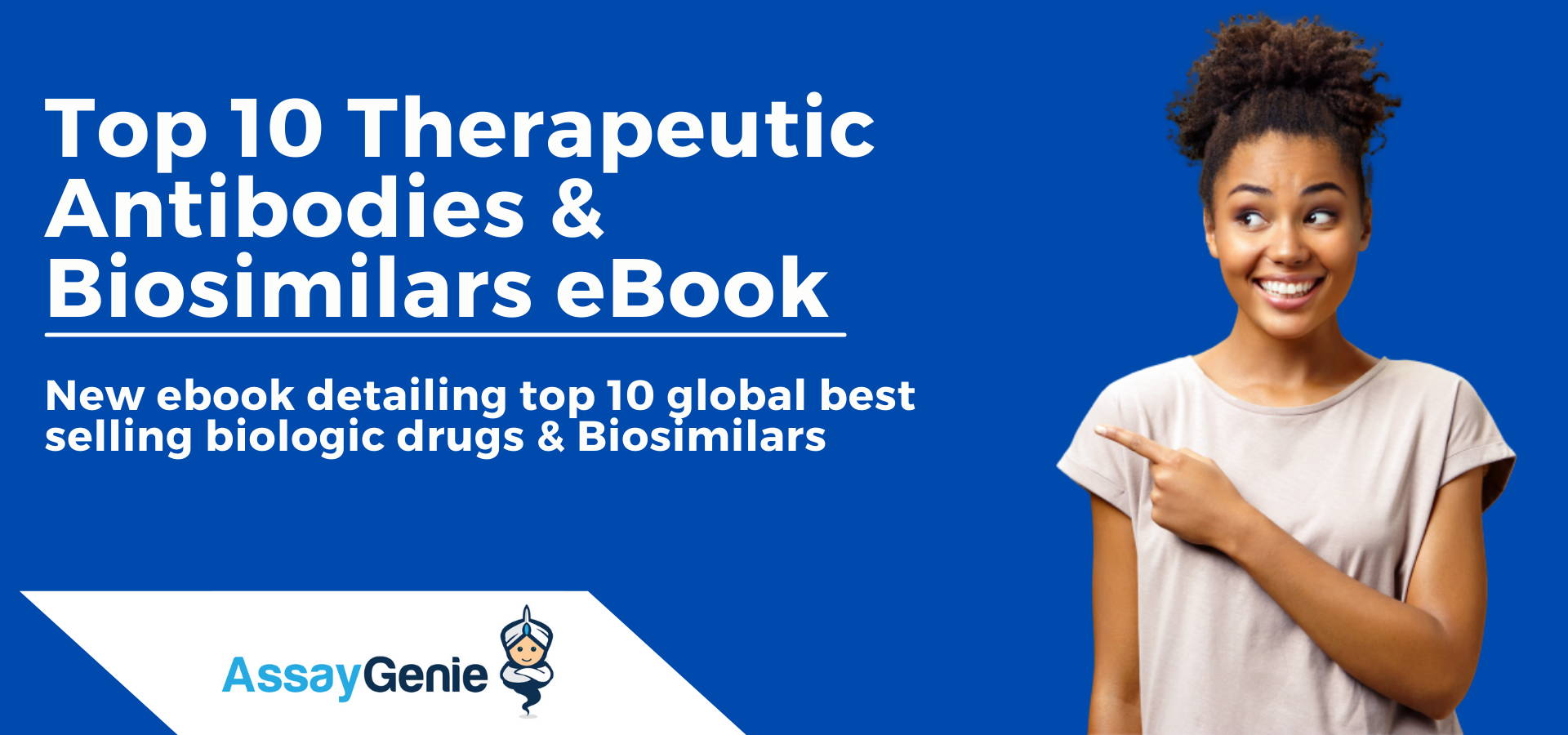 In our Ebook we provide an overview of the mechanism of action of each our the biologics listed and it's affect on inflammation and respose.
In our Ebook we provide an overview of repurposing of each biologic and associated biosimilars.
Finally, we provide an overview of sales of each biologic, it's manufacturer and the up and coming biosimilars!
Biological drugs, or biologics, are commonly defined as large, complex, organic molecules (composed of sugars, proteins, or nucleic acids) produced by living organisms (either microorganisms or mammalian cells). Biologics englobe a wide range of products such as vaccines, blood and blood components, allergenics, somatic cells, gene therapy, tissues, and recombinant therapeutic proteins.
In contrast to chemical drugs, whose production processes and structures are relatively well-characterized and uniform, biologics necessitate complex and costly aseptic manufacturing processes and quality controls that are more difficult to scale-up.
The first appearance of biologics on the pharmaceutical market dates back to the 1980s with the development of human growth hormone, insulin and red-blood cell stimulating agents.
Since then, thanks to the advances in genetics, proteomics, cellular biology and biotechnologies that allow researchers to dissect cellular pathways involved in pathological processes, biologics now represent the cutting-edge of biomedical research and the most promising line of treatment in a wide variety of medical indications, including cancers and autoimmune diseases. Noticeably, among the top 10 drugs reported in 2018 by sales, 7 can be considered bona fide biologics.
Here, we propose an overview of the Top 10 Biologics sold in 2018, based on the financial reports published by pharmaceutical companies in early 2019. Comprehensive information about each drug can be accessed through their full prescribing information.
---
Generic name: Adalimumab5
Manufacturer: AbbVie Inc.
First marketing date (USA): December 2002
Sales in 2018 (USD billions): 19.9366
Product type: Humanized anti-TNF IgG1K monoclonal antibody.
Medical indication(s) (full prescribing information)7:
Moderate to severe rheumatoid arthritis in adults
Moderate to severe polyarticular juvenile idiopathic arthritis in children over 2 years old.
Psoriatic arthritis in adults.
Ankylosing spondylitis in adults.
Moderate to severe Crohn's disease in adults.
Moderate to severe ulcerative colitis in adults.
Moderate to severe chronic plaque psoriasis in adults.
Non-infectious intermediate, posterior and pan-uveitis in adults and children over 2 years old.
Moderate to severe hidradenitis suppurativa in people 12 years and older.
Mechanism of action: TNFα is a pro-inflammatory cytokine whose levels are found elevated in various chronic inflammatory diseases. Humira® is a TNF inhibitor that specifically binds soluble and membrane-bound TNFα, thereby preventing this pro-inflammatory cytokine from interacting with its p55 and p75 cell surface receptors8. However, the precise mechanism(s) through which Humira® achieves its anti-inflammatory effect in the variety of clinical conditions it is prescribed for remains elusive.
Repurposing: An ongoing clinical trial (NCT03180957) sponsored by the University of Oxford aims at assessing the effect of Humira® in patients suffering from Dupuytren's disease, a painful and disabling condition, affecting roughly 4% of the general UK and US population, where fingers curl irreversibly into the palm9,10. The investigators identified TNFα as a key mediator of the cellular process that initiates and maintains disease progression.
Biosimilars approved in USA11:
Amjevita™ (Amgen) – September 2016
Cyltezo™ (Boehringer Ingelheim) - August 2017
Hyrimoz™ (Sandoz) - October 2018
---
Generic name: Pembrolizumab12
Manufacturer: Merck
First marketing date (USA): 2014
Sales in 2018 (USD billions): 7.17113
Product type: Humanized anti-PD-1 IgG4 monoclonal antibody.
Medical indication(s) (full prescribing information)14:
Advanced non-small cell lung cancers
Melanoma
Head and neck squamous cell cancer
Classical Hodgkin lymphoma
Microsatellite instability-high cancer
Advanced urothelial bladder ca