Sepsis ELISA Kits | Assay Genie
Validated Sepsis Biomarker ELISA Kits for Sepsis & Immune Research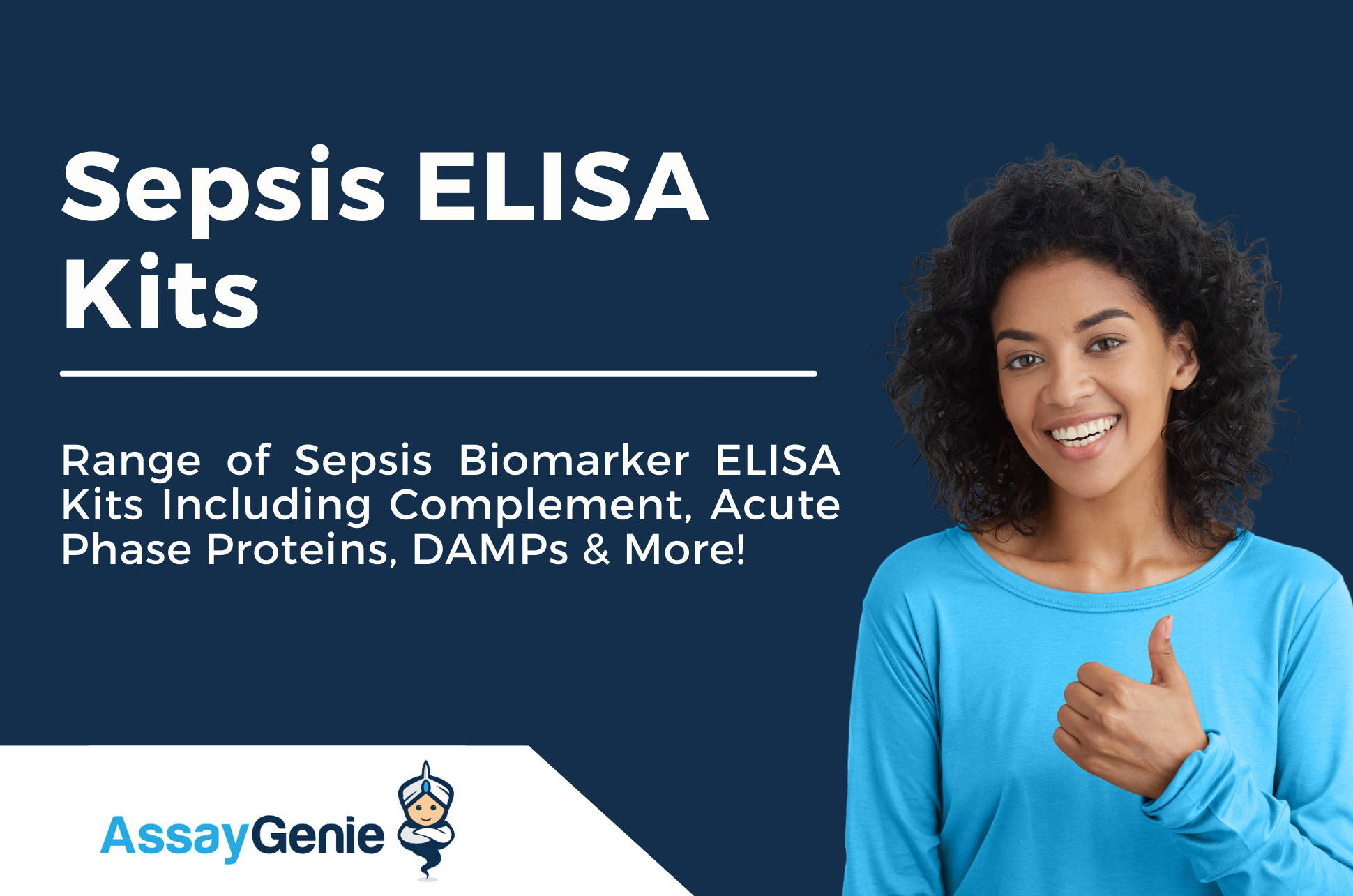 ELISA Biomarkers in Sepsis
| | | |
| --- | --- | --- |
| Biomarker Type | Biomarker | Product |
| | | |
| | | |
| | | |
| | TNF-α, IL-6, IL-10, IL-1β, IL-10, MCP-1 | |
| | | |
| | | |
| | | |
| | | |
| | | |
| | | |
| | | |
| | | |
| --- | --- | --- |
| | Validated | We endeavour to provide our sepsis ELISA kits with extensive validation data including Spike-recovery, Linearity, Range, CV%, Standard Curves. |
| | Sensitive | Ready-to-use, pre-coated 96-well ELISA kits with picogram sensitivity for many analytes. |
| | Flexible | Validated in Serum, plasma, cell culture supernatant. |
| | Comprehensive | 200+ Complement Factor ELISA kits across 12 species. |
Popular Sepsis ELISA Kits
Looking to Analyse Multiple Sepsis Related Analytes?
Why not try our Genieplex Technology! Our Sepsis Multiplex Kits allow researchers to screen up to 24 sepsis related biomarkers in as little as 15 µL of sample!
Clinically Relevant Biomarkers in Sepsis
Sepsis is a serious and often life-threatening systemic immunological response caused by pathogens that can lead to end-stage organ failure. It is estimated to affect 29 million people annually and accounts for 11 million deaths globally. Both the innate and adaptive immune response play crucial roles in the development of the condition.
Acute phase proteins are a class of proteins that are detectable in blood plasma and whose concentrations are reflective of inflammation. The acute phase response is a term that describes the series of events which occur non-specifically to inflammation, infection or trauma.
Acute phase proteins are made by hepatocytes in the liver following stimulation by various cytokines. Alterations in acute phase protein concentration can be attributed to changes in their production. The three most important acute phase proteins are C-reactive protein (CRP), serum amyloid A and serum amyloid P. CRP works by binding to polysaccharides of bacteria, fungi and other pathogens and activates the complement response. Acute phase proteins reinforce the innate immune system in response to infection however excessive production during sepsis may lead to septic shock. The magnitude of the acute phase response gives a guide to the intensity of inflammation and tissue involvement.
The complement system is a network of tightly regulated plasma proteins which aid in inflammation and host defense. Complement activation has been implemented in sepsis and contributes to systemic disruption. The system consists of over 50 proteins which act in a signalling cascade. The complement pathways include the classical pathway, lectin pathway and alternative pathway which all result in the cleavage of C3 to C3a and C3b. Activation of the complement products C3a, C4a and C5a, termed anaphylatoxins, are elevated in the early stages of the disease. The anaphylatoxins, after binding to their associated receptors have strong pro-inflammatory responses that are harmful to cells and organs.
Complement activation is complex with current research efforts exploring the cross-talk of complement signalling with other aspects of immune disruption during sepsis and in targeting potent complement activators to rebalance the immune response.
Range of Mouse, Rat, Non-Human Primate, Porcine and Bovine Complement ELISA Kits available
Related Tools for Research
Intense research is now required to elucidate the immunological pathways involved in sepsis. This research will contribute to the development of more comprehensive and tailored clinical treatments of the systemic and often fatal disease. To support sepsis and septic shock research we have developed some key biological research tools such as antibodies, ELISA kits and multiplex panels to measure numerous markers of inflammation such as cytokines & cytokine storms, DAMPs, complement and other acute phase proteins & biomarkers.