Recombinant Proteins for SARS-CoV-2 Research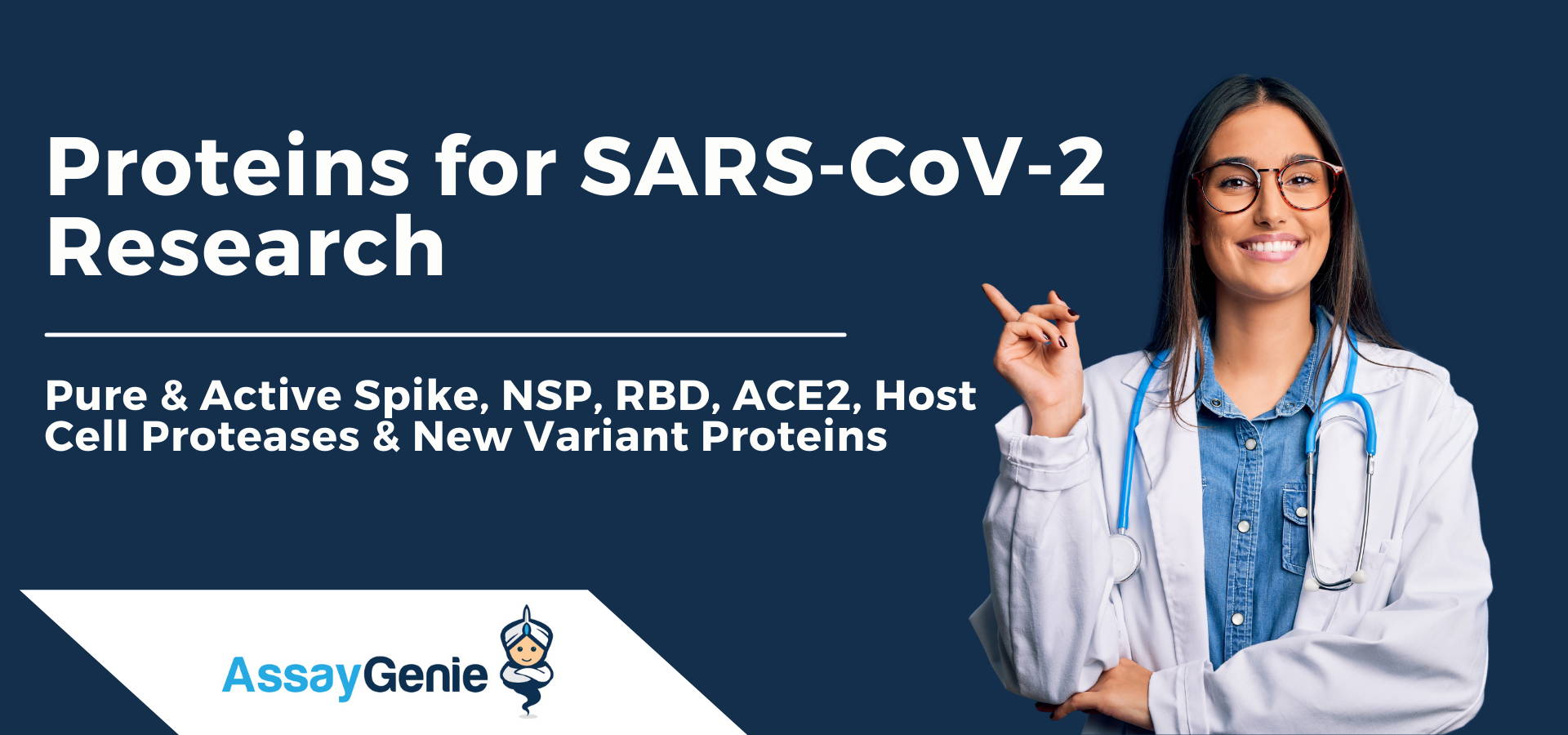 Assay Genie SARS-CoV-2 Recombinant Proteins
With the rapid progression of the global pandemic, COVID-19, there has been the development of innovative drug & vaccine RnD strategies to battle and overcome this infectious disease. At Assay Genie we have developed over 60  novel recombinant proteins for SARS-CoV-2 as well as new variants such as Japan, UK, South Africa, Brazil and others to aid COVID-19 Research.
Why choose Assay Genie SARS-CoV-2 recombinant proteins?
Our proteins are highly pure, ranging between 90-98% in purity. They are also physiologically relevant; Assay Genie recombinant proteins are mostly expressed in mammalian expression systems, meaning that they are synthesized, processed, and secreted in a manner similar to in humans. For this reason, as well as the fact they have been shown to have low endotoxin, our recombinant proteins do not elicit an immune response in vivo. This makes ELISA Genie recombinant proteins hugely relevant to the area of vaccine development for COVID-19.
Types of SARS-CoV-2 recombinant proteins available
We have synthesized recombinant versions of the key proteins involved in the process of viral infection by COVID-19. These include the integral proteins expressed on the surface of the coronavirus; spike (S) protein, envelope (E) protein, and nucleocapsid protein (N).We have also created recombinant proteins of other proteins involved in the mechanism of infection with coronavirus. These include proteinases, proteases, and helicases essential for coronaviral replication and host cell invasion, as well as human proteins implicated in coronavirus uptake into host cells, such as CD147/Basigin Protein, APN Protein, and the human receptor for SARS-CoV-2; ACE2.
Our recombinant proteins allow scientists to both recapitulate the endogenous activity of key proteins involved in coronavirus infection, as well as develop potential therapies by targeting such proteins.
SARS-CoV-2 recombinant proteins
COVID-19 Background: SARS-CoV-2 Structure
SARS-CoV-2 is the causative viral agent of the disease COVID-19. It bears several key proteins within its structure which have been the focus of research the past number of months due to their potential to be therapeutic targets in COVID-19.
Key SARS-CoV-2 Proteins
Spike (S) Protein
The spike protein is the one of the four main proteins found on the surface of the coronavirus virion. These transmembrane glycoprotein spikes consists of two components; S1 and S2.  S1 and S2 proteins have been shown to play a major role in receptor binding and membrane fusion. The receptor-binding domain (RBD) of the S protein can be found at the N-Terminal end of the S1 domain. It is responsible for host cell entry of the virus via the ACE2 receptor. Upon binding of the Spike S1 domain to ACE2 a conformational change is initiated in the Spike S2 domain; this facilitates the attachment of the virus to the host cell membrane which results in subsequent nucleocapsid transfer into cell.
ACE2 Protein
Angiotensin II converting enzyme (ACE2), a carboxypeptidase, is an enzyme involved in the renin-angiotensin system (RAS). It has been shown to play an important role in regulating the heart function. ACE2 is a receptor of human coronaviruses, such as SARS and HCoV-NL63. This receptor facilitates the uptake of SARS-CoV-2 into host cells. ACE2 is expressed in multiple locations and cell types, notably including alveolar epithelial cells, surface enterocytes within the small intestine, and vascular endothelial cells of the lung, kidneys and heart.
Nucleocapsid (N) Protein
Coronavirus N protein is the most abundant protein expressed on the surface of the coronavirus. It is required for coronavirus RNA synthesis and packaging, and has RNA chaperone activity that may be involved in template switch. The N  has also been suggested to play a role in virus particle release.
Envelope (E) Protein
The envelope protein is one of the four integral proteins found on SARS-CoV-2 viral particles. The protein has a central role in virus morphogenesis and assembly, acting as a viroporin and self-assembling in host membranes to form pentameric protein-lipid pores that allow ion transport. The E protein also plays a role in the induction of apoptosis (by similarity).
Related tools for research