Vaccine Research Products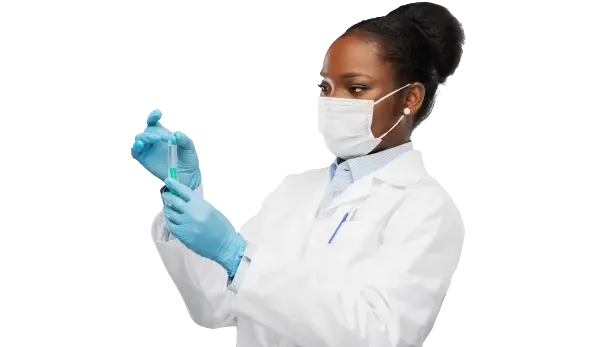 Vaccine Research Products - Key Information
At Assay Genie, we continue to support researchers push the boundaries of knowledge and help them discover more. We provide an extensive library of immunoassays, cellular assays, multiplex assays, ELISpot assay kits, recombinant proteins, antibodies & more!
Assay Genie research tools aid researchers in the development of novel approaches to treat immune-related diseases and design better vaccines to combat infectious agents and cancer.
Vaccine & Therapeutic Development
Host Response / Immune Monitoring & Characterization
Vaccine Efficacy & Immunogenicity
We provide immunoassays, ELISpot kits, proteins and cellular assays to quantify & analyze immune immune responses in vitro and in vivo.
Human Diseases & Vaccines
Hepatitis
Human papillomavirus (HPV)
Staphylococcus aureus
Streptococcus pneumoniae
Streptococcus pyrogenes
Group B Streptococcus (GBS)
Dengue
Ebola
Enterotoxigenic Escherichia coli
Nontyphoidal Salmonella Disease
Respiratory Syncytial Virus (RSV)
Meningococcal meningitis
Zika
Norovirus
Poliomyelitis
Campylobacter jejuni
Chagas Disease
Chikungunya
Enterovirus 71 (EV71)
Human Hookworm Disease
Leishmaniasis Disease
Herpes Simplex Virus
Schistosomiasis Disease
Shigella
Varicella
Yellow Fever
West Nile virus (WNV)
Japanese encephalitis
Rabies Rotavirus
Rubella
Leptospirosis
Tetanus
Tick-borne encephalitis
Cholera
Diphtheria
Haemophilus influenzae type b (Hib)
Measles
Mumps
Pertussis
Pneumococcal disease
Animal Diseases & Vaccines
Canine:
Distemper
Adenovirus
Hepatitis
Parovirus
Parainfluenza
Bordetella
Leptospirosis
Lyme Disease
Coronavirus
Giardia
Canine Influenza Virus (CIV) or Canine Influenza H3N8

Cat:
Feline Viral Rhinotracheitis (feline herpes)
Panleukopenia virus (feline distemper)
Calicivirus
Feline leukemia
Bordetella

Horse:
Rabies
Encephalomyelitis (Eastern, Western, and Venezuelan)
Tetanus
Influenza
Equine herpesviruses 1 and 4
Botulism
Equine ehrlichiosis (Potomac horse fever)
Equine viral arteritis
Rotavirus
West Nile virus
Streptococcus equi (strangles)

Bovine:
IBR
BVD
PI3
BRSV virus
Leptospirosis
Clostridial
E. coli mastitis
Calf diarrhea diseases
Septicum
Pasteurella Haemolytica Bacteri
Toxoid

Sheep:
Clostridium C and D (enterotoxemia)
Tetanus
Clostridium perfringens
Clostridium novyi
Pasteurellosis Pneumonia

Pigs:
Mycoplasma hyopneumoniae
Porcilis APP (Actinobacillus pleuropneumoniae)
Atrophic rhinitis
Porcine Epidemic Diarrhea virus (PEDV)
Porcine Reproductive and Respiratory Syndrome virus (PRRSV)
Swine Influenza Virus (SIV)

Chicken:
E. coli strains - adhesins F4ab (K88ab), F4ac (K88ac), F5 (K99) or F6 (987P)
C. perfringens type C
Human Research ELISA Kits
Assay Genie Human Research ELISA Kits can be used as an effective tool for researchers studying immune responses or human immunity to infectious diseases, as well as for the development of effective vaccines.
Animal Model Research ELISA Kits
At Assay Genie we have developed an extensive portfolio of highly validated animal ELISA kits for a wide range of targets across 20 species!
Our animal ELISA kits can be used for the quantification of cytokine expression in animal models & the characterization of immune responses to viral infections!
GeniePlex Multiplex Assays