Description
Fatty Acid Uptake Assay Kit (Cell-Based)
Fatty acids are essential dietary nutrients consisting of a carboxylic acid moiety linked to a long aliphatic hydrocarbon chain. They are the fundamental building blocks of more complex lipids such as those that form cellular membranes. In the blood, long-chain fatty acids travel bound to serum albumin and are transported into cells by members of the SLC27 family of transmembrane transporter proteins. Uptake of long-chain free fatty acids into adipocytes is essential for regulating circulating lipid levels and cellular lipid metabolism. Abnormalities in adipocyte fatty acid uptake and lipid metabolism are major contributing factors to obesity, diabetes/metabolic syndrome, cardiovascular disorders and nonalcoholic fatty liver disease (NAFLD). As diet and exercise consistently fail to achieve any lasting results in combating obesity, pharmacological targeting of fatty acid uptake is being investigated as a potential treatment strategy.
Assay Genie's Fatty Acid Uptake Assay Kit enables rapid determination of real-time fatty acid uptake kinetics in live cells expressing fatty acid transporter proteins. The assay uses a highly fluorescent long-chain fatty acid analogue (Ex/Em = 488/523 nm) that acts as a substrate for transmembrane fatty acid transporters (FATPs) and accumulates in intracellular lipid droplets.
A proprietary non-toxic membrane-impermeable quenching agent eliminates any fluorescence arising from the extracellular space, ensuring specific measurement of intracellular fatty acid accumulation without requiring any tedious wash steps. The assay is highly sensitive, has a simple mix-and-read protocol and is high-throughput adaptable for screening of fatty acid uptake-modulating test compounds or treatment conditions. The kit contains a complete set of reagents sufficient for performing 100 reactions in a 96-well plate format.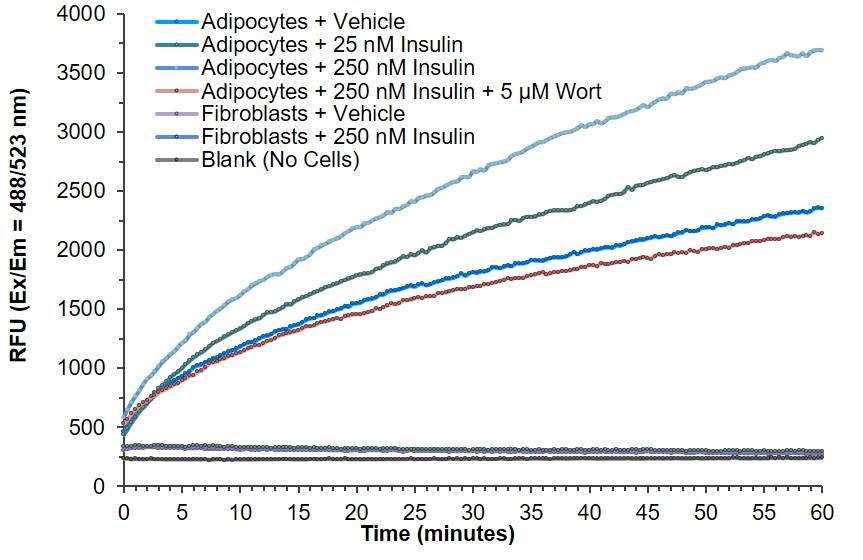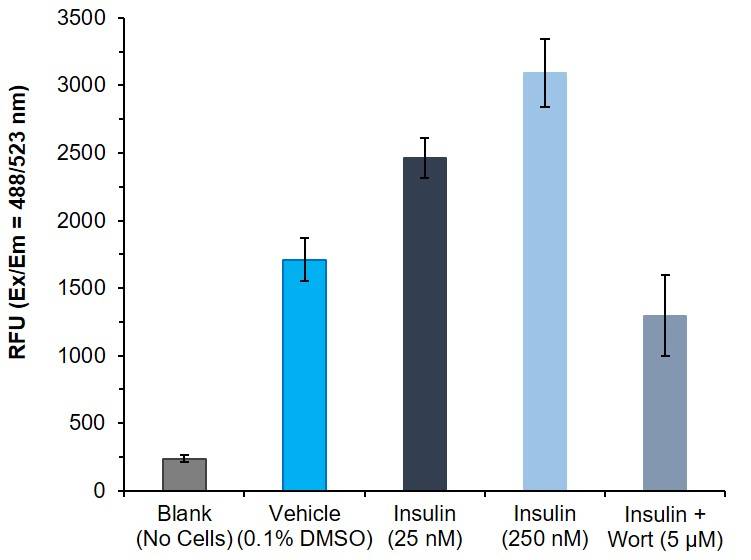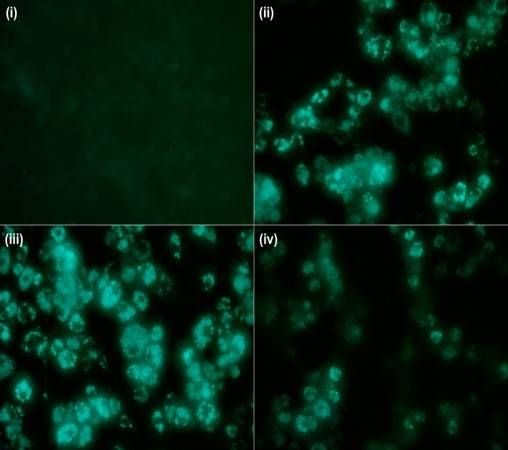 Figure: (a) Kinetics of fatty acid uptake in serum-starved 3T3-L1 fibroblasts and differentiated 3T3-L1 adipocytes treated with insulin (25 and 250 nM) or insulin plus wortmannin (250 nM + 5 μM), a PI3-Kinase inhibitor that blocks insulin signaling pathways. (b) Endpoint fluorescence in 3T3-L1 adipocytes in the presence of ascending doses of insulin (0, 25 and 250 nM), as well as a mixture of insulin and wortmannin (250 nM + 5 μM). Fluorescence was measured 60 minutes after the addition of Uptake Reaction Mix. Data are mean RFU ± SEM of 4 independent plates, with each data point representing the mean of quadruplicate wells. (c) Fluorescence imaging showing the extent of fluorescent fatty acid analogue uptake after 60 minutes. (i) undifferentiated 3T3-L1 fibroblasts, (ii-iv) differentiated 3T3-L1 adipocytes pretreated with (ii) vehicle (medium w/ 0.1% DMSO), (iii) 250 nM insulin or (iv) 250 nM insulin and 5 μM wortmannin. Fluorescence images were obtained with a Nikon TE2000 inverted microscope using a 20X Plan Fluor objective and a FITC filter cube.
Key Information
Description

Detection method- Fluorescence (Ex/Em = 488/523 nm)
Species reactivity- Mammalian
Applications- This easy-to-use, one-step, non-radioactive kit can detect free fatty acid uptake using a variety of cell types.

Fluorescence (Ex/Em: 488/523 nm)

Characterization of fatty acid uptake kinetics in live cells.
Screening and characterization of drugs and test compounds for modulation of fatty acid uptake.

Simple procedure (One Step)
Fast and convenient
The assay is easy, non-radioactive, and highly sensitive

Uptake Assay Buffer
Extracellular Quenching Solution (100X)
Fluorescent Fatty Acid Probe (200X)

For Research Use Only! Not For Use in Humans.
View All
Close